Taiwan Will Restrict Lunar New Year Activities Due to COVID-19 Threat
The country could also receive its first vaccine doses in February, although it must work around its exclusion from the World Health Organization.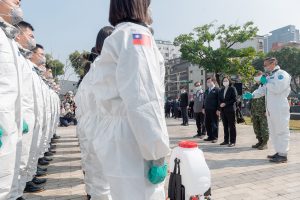 Taiwan remains one of the world's preeminent success stories in warding off the coronavirus pandemic – the island has recorded less than 1,000 total cases and just nine deaths. That doesn't mean officials have any plans to neglect the threat of COVID-19 ahead of the country's biggest annual holiday.
Taiwan's Central Epidemic Command Center (CECC) said this week it would institute crowd control measures at national scenic areas during the upcoming Lunar New Year holiday.
It also delayed the reopening of schools after the winter break by four days and resurrected a program, created by the Ministry of Labor last year, that allows parents to take family leave due to the delays.
Taiwan began screening incoming passengers from Wuhan on December 31, 2019 after receiving reports of an unknown virus. It recorded its first case of COVID-19 on January 21, 2020 – just hours after the United States recorded its first case.
But while the U.S. failed to act before states began instituting stay-at-home orders in March as the spread of COVID-19 overwhelmed hospitals, Taiwan immediately mandated face masks on public transportation and instituted other preventative measures, including delaying the reopening of schools after last year's Lunar New Year holiday.
Taiwan recorded most of its local COVID-19 transmissions prior to April 12, 2020, after which the country went over eight months without recording a single locally transmitted case.
The public is back on high alert after a cluster infection originated in a hospital in the northern city of Taoyuan last month. Many Lunar New Year gatherings were already canceled or postponed, and Taiwan's railways have reinstituted stricter rules that had previously been relaxed after the spring of 2020.
Taiwan reported four new cases in the cluster infection on January 30, bringing the total cases related to the cluster to 19, but has not recorded new incidents of local transmission outside of the cluster.
It also recorded the first death of a COVID-19 patient since May 11, 2020, as a woman in her 80s – the mother-in-law of a nurse at the hospital – died of the coronavirus.
Taiwan has avoided a large-scale outbreak and has never ordered the closure of schools, restaurants, or most businesses. Temporary restrictions on large indoor gatherings had been lifted by the summer of 2020.
The country is also getting closer to securing its first COVID-19 vaccines, despite not being a member of the World Health Organization.
Taiwan's CECC said on February 4 that it and other non-United Nations members would be allotted 1.3 million doses of the AstraZeneca COVID-19 vaccine in the first round of distribution by COVAX, the global vaccine distribution initiative. The vaccine will be delivered in February at the earliest.
Taiwan has firmly refused to supply vaccines made by China and has warned that any imports of Chinese-made vaccines are banned.
According to CECC data, Taiwan had ordered nearly 20 million COVID-19 vaccine doses as of the end of 2020. This included 4.76 million doses from COVAX, 10 million doses from AstraZeneca, and 5 million doses from an unidentified company.
Taiwan's Health Minister Chen Shih-chung has previously said the country will likely relax quarantine restrictions once immunization coverage reaches 60 percent. Taiwan mandates strict 14-day quarantines from all arriving passengers, regardless of nationality, and slaps quarantine violators with heavy fines – even if they step outside of their hotel rooms for just a few seconds.