The Fall of Tajikistan's Opposition
President Emomali Rahmon has consolidated power by leading a merciless campaign against any opposition.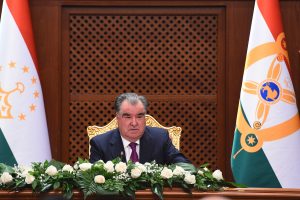 On November 16, 1992, deputies from Tajikistan's Supreme Soviet met in the northern city of Khujand. One year after gaining independence from the Soviet Union, Tajikistan was wracked by a civil war between regional groups that would kill up to 60,000 people. The country's previous president, communist-era leader Rahmon Nabiyev, had been forced to resign at gunpoint on September 7. In the picturesque surroundings of the House of Culture at the collective farm Arbob, just outside of the city limits, the deputies had to decide who should chair the Soviet, and act as head of state until elections could be held.
Rather than choosing a prominent politician, they opted for little-known Emomali Rahmonov, who had only been elected to the national assembly two years before. A visibly nervous Rahmon, as he became in 2007 after dropping the -ov, took to the stand; in a weak voice he promised to "defend the constitution and the laws of the Republic."
Rahmon was in a position of relative weakness in 1992. He had no militia of his own. He did not have his own independent powerbase, but relied on the patronage of Sangak Safarov, a convicted criminal and barkeeper who had risen to become the most powerful warlord in the country. At the time of Rahmon's election, the government controlled just 40 percent of the country's territory and did not have full control over the capital city.
Twenty-seven years later, Rahmon remains Tajikistan's president. With the death of Uzbekistan's Islam Karimov in 2016 and the retirement of Kazakhstan's Nursultan Nazarbayev in 2019, he is the longest serving head of state in the former Soviet Union. Rahmon has jailed, killed, or exiled those who put him in power, gradually strengthening his family's grip on power and treating the state as a cash cow.
In March, Tajikistan will hold parliamentary elections. The party of Emomali Rahmon, the ironically-named People's Democratic Party (PDP), holds 51 of the 63 seats in Tajikistan's lower chamber. A total of 70 candidates will stand for the 22 seats that are decided by proportional representation. While seven parties will compete in the election, only one, the Social Democratic Party, which currently has no deputy in parliament, offers any genuine opposition to the government. Last time around, in 2015, observers from the Organization for Security and Cooperation in Europe (OSCE), concluded that the election "took place in a restricted political space and failed to provide a level playing field for candidates."
Absent from this year's elections is the Islamic Renaissance Party (IRPT), once Central Asia's only legal faith-based political party, which had held two seats in parliament until 2015. Without opposition representatives in Tajikistan's parliament, the country has become a de facto one-party state.