Another 13 Years on Corruption Charges for Gulnara Karimova
Meanwhile, negotiations go on between the Swiss and Uzbek governments over millions in frozen assets.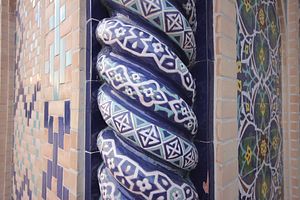 Gulnara Karimova, the embattled eldest daughter of late Uzbek President Islam Karimov, has been found guilty in a closed trial of extortion, money laundering, misappropriating the property of others, financial and other crimes. She and five other defendants were sentenced immediately, with Karimova receiving an 13 years and four months on top of her previous sentences.
Karimova's latest trial began in January. At the time, I recounted the path that had landed her in a jail cell in March 2019, presaging further legal troubles:
Karimova had been serving a five-year sentence in house arrest stemming from a 2017 conviction (originally for 10 years) for embezzlement and extortion. She was taken from her daughter Iman's Tashkent apartment to a prison in March 2019. The authorities claimed she had violated the terms of her house arrest. A few days later, the U.S. Department of Justice announced the unsealing of charges against Karimova and Bekhzod Akhmedov. Akhmedov is the former CEO of an Uzbek subsidiary of MTS, a Russian telecom that agreed to pay a $850 million resolution in relation to the bribery of Uzbek officials.

Karimova and Akhmedov, the DOJ said, were being sought "for their participation in a bribery and money laundering scheme involving more than $865 million in bribes from MTS, VimpelCom Limited (now VEON) and Telia Company AB (Telia) to the former Uzbek official in order to secure her assistance in entering and maintaining their business operations in Uzbekistan's telecommunications market."
Shortly thereafter, the Uzbek Prosecutor-General said it was investigating Karimova again for involvement in a scheme in which she purchased state-owned shares in two cement companies at a low price, and then sold them to foreign businessmen for a profit. Karimova was also accused of threatening local business owners into transferring their property to her.
According to a statement about the case from the Uzbek Supreme Court, factoring Karimova's other sentences the new sentence would be calculated from August 21, 2015. 
Karimova had been put under house arrest in 2014, when her father was still alive and ruling Uzbekistan. Her involvement in grand scale corruption had broken into international media beginning in 2012.
In February 2020, ahead of the conclusion of her latest trial, Karimova reportedly offered to return more than half a billion dollars in exchange for the end of the trial. As RFE/RL reported last month, in a letter addressed to President Shavkat Mirziyoyev, Karimova offered to return $686 million to the Uzbek treasury. The letter, written in Russian and posted to Instagram by Karimova's daughter Iman, stated: "Also, to preserve my family and my health, under the right conditions I am ready to release all claims to financial sums, the only money left to my family and frozen in Switzerland, to allow for the simplified closure of the case [against me], namely without a public trial, while I would assign $686 million to the state."
In the letter, Karimova complained that the $1.2 billion in property and cash confiscated from her family during previous cases had not been considered compensation by the state. She also tipped information regarding ongoing negotiations between the Swiss and Uzbek governments regarding the return of more than $700 million in frozen assets, in addition to $131 million that Swiss authorities have already approved to be returned to Uzbekistan. Karimova, in her letter, complained that the process of transferring the $131 million back to Uzbekistan for use in Uzbek government-run humanitarian projects in the fields of public health and education, "was being held up due to the involvement of too many officials who were pursuing their own interests."
On March 10, a group of Uzbek civil society activists published a plea directed at Swiss authorities to take care in their ongoing negotiations:
We, Uzbek civil society activists, are greatly concerned by Karimova's alleged insight into the status and nature of on-going negotiations. Whilst we welcome the recent updates from Swiss authorities – a positive step towards meeting the GFAR principles – we urge the Swiss government to:
uphold its commitments in observing these principles, particularly relating to full transparency of the asset return process;

ensure safeguards that prevent these assets from being stolen again;

involve independent civil society in the monitoring and disbursement of assets.
The 10 principles for the return of confiscated stolen assets agreed on at the Global Forum for Asset Recovery (GFAR) in 2017 include: partnership, mutual interests, earl dialogue, transparency and accountability, beneficiaries, strengthening anti-corruption and development, case-specific treatment, use of existing institutional frameworks where possible, preclusion of benefit to offenders and inclusion of non-government stakeholders.
The Uzbek activists are primarily concerned about transparency of the negotiations between the Swiss and Uzbek governments and the matter of precluding benefits to Karimova and her associates. The activists note that "Uzbek officials who were complicit in Karimova's crimes of extortion and bribery of telecommunications companies, still hold leading positions in the government of Uzbekistan." Furthermore, instances of conflict of interests and lack of transparency regarding investment in massive construction projects have not been taken seriously by the government.
Ultimately, Uzbek and other anti-corruption activists are concerned that Tashkent does not yet have the ability to properly accept the return of Karimova's pilfered millions and ensure the funds don't just end up in another well-connected Uzbek's pockets.
Given the recent conviction and sentencing,it appears that Karimova's gambit to buy herself out of the situation hasn't worked. There remain many millions on the line in limbo between the Swiss and Uzbek governments, not to mention the U.S. indictment and millions frozen elsewhere in the world.