Gulnara Karimova Accused of Running Criminal Organization in New Swiss Indictment
Karimova's organization, dubbed "The Office," ran a hierarchical professional operation – with a criminal twist, according to Swiss federal prosecutors.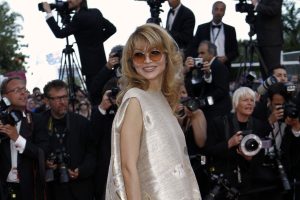 On September 28, Swiss federal prosecutors filed an indictment against Gulnara Karimova, the daughter of Uzbekistan's first president Islam Karimov, and an unnamed former general director of the Uzbek subsidiary of a Russian telecommunications company for alleged involvement in a criminal organization, money laundering, bribe taking, and forgery. The charges extend over a period of time running from 2005 to 2013 and mark the latest expansion and extension of criminal proceedings against Karimova and her associates.
Karimova, once envisioned as a possible successor to her father, lived large and fell hard. In the 2005-2013 window, Karimova served in a plethora of roles from an adviser to the minister of foreign affairs (2005 to 2008), to Uzbekistan's Permanent Representative to the United Nations and other international organizations in Geneva (2008-2013) as well as serving as Uzbekistan's ambassador to Spain (2010). She was a wannabe popstar under the name Googoosha as well as the alleged beneficial owner of a shell company into which a major Swedish telecom paid an estimated $320 million in bribes for access to the Uzbek telecom market. 
In July 2012, the Office of the Attorney General of Switzerland opened a criminal investigation into Karimova's personal assistant in connection with forgery of documents and money laundering. By 2013, Swedish prosecutors were also looking into Karimova's business dealings, joined soon by U.S. and Dutch authorities. By 2014, Karimova had been removed from her diplomatic posts and placed under house arrest by her own father. The Swiss investigation had turned on her directly, too, "once the immunity connected with her activities as a diplomat at the United Nations Office in Geneva was lifted."
According to Swiss prosecutors, between 2018 and 2021, four people were convicted of money laundering and forgery of documents in related cases. "More than CHF 340 million was definitively confiscated with a view to being returned to Uzbekistan. Currently, more than CHF 440 million in assets remains under seizure in the proceedings against Gulnara Karimova and the second accused."
In 2021, the case was expanded to include suspicions of accepting bribes as foreign public officials and the following year expanded again to include charges of participating in and supporting a criminal organization.
The criminal organization, which Swiss prosecutors alleged Karimova developed, was known as "The Office." Operating in Switzerland since 2005, its purpose was "to conceal the capital originating from its criminal dealings in Swiss bank accounts and safes and by purchasing real estate." According to the prosecutors, "The Office" ran a professional operation – with a criminal twist – "complying with mandatory regulations and observing a strict allocation of tasks, while also resorting to violence and intimidation." Investigators identified references to a hundred companies established and used by the criminal organization "to guarantee that the entire structure remained opaque."
Swiss prosecutors allege that in the early 2000s, when Uzbekistan's telecom market was booming, "foreign companies that wished to enter and operate in this sector were required to pay bribes to Gulnara Karimova via companies in 'The Office', in order that she would intervene decisively in their favour." Karimova, the indictment argues, "exploited her dual status as the daughter of the president and as an Uzbek public official, which allowed her to exercise unlimited influence over state officials when it came to allowing companies to enter and operate in the telecommunications sector."
Investigations in Switzerland alone "have led to the seizure of assets totalling an amount equivalent to around CHF 780 million, comprising bank assets and real estate, as well as cash and valuables deposited in bank safes." The latest indictment seeks "the confiscation of assets totalling more than CHF 440 million."
The indictment positions Karimova as the central node, the mastermind behind "The Office" and its dealings. At this juncture, criminal proceedings have been instigated against Karimova and her associates in Sweden, France, Norway, the Netherlands, the United States, and the United Kingdom — in addition to Uzbekistan, where she is currently in prison serving a 13-year sentence. 
It's tempting to view Karimova as a singular greedy princess, a uniquely corrupt individual. But corruption at the scale at which she allegedly carried it out, and for the length of time she got away with it, is the product of a permissive environment. In an article in the just-released Diplomat Magazine, I referred to Karimova as "perhaps the most famous nepo baby in Central Asia, as much for the absurd high as for the dramatic fall from grace." (The word "nepo" here is shorthand for "nepotism," the practice of handing out jobs to relatives.) A leaked U.S. diplomatic cable from 2009 referred to her then, years before her public downfall, as a "robber baron." The Swiss indictment's reference to her exploitation of her "dual status" as an official and the daughter of a powerful president is as much an indictment of nepotism as anything else.
And, as I discussed in the Diplomat Magazine article, nepotism is rampant in Central Asia. Just look at the sons, daughters, sons-in-law, nephews, and so on which are appointed to high-ranking posts as advisers, mayors, deputies, and so on. With such positions come an opportunity for corruption at a grand scale.