COVID-19 Arrives in Central Asia
It was only a matter of time.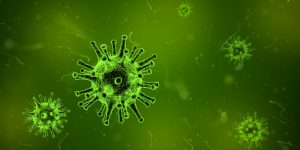 On March 13, authorities in Kazakhstan announced the country's first three cases of COVID-19, the results of a novel coronavirus circulating the globe in what the World Health Organization (WHO) described last week as a pandemic. 
The WHO's description of COVID-19 as a pandemic on March 11 prompted Nur-Sultan toward greater action. On March 12, Kazakhstan canceled Nowruz celebrations scheduled for March 21-23 as well as a military parade scheduled for the May 9 75th anniversary of the defeat of Nazi Germany. President Kassym-Jomart Tokayev temporarily banned all public gatherings, such as sports events and conferences. School spring breaks were set to begin a week early, on March 16; meanwhile universities were instructed to switch to online distance learning methods. 
The next day, Nur-Sultan announced its first three confirmed cases of COVID-19, marking the first officially identified in the Central Asian region.
The first two cases were identified in Almaty. Two Kazakh citizens — a 46-year-old man and 36-year-old woman — arrived from Germany on March 9 and 12. They showed no symptoms but tested positive. The third case was a woman who arrived from Milan, via Moscow, on March 12. Kazakhstan had already put in place mandatory quarantines for passengers arriving from certain countries, such as Italy, where the outbreak has been particularly severe.
By March 15, Kazakhstan's case numbers had tripled to nine and the government declared a one-month state of emergency.
The same day Uzbekistan reported its first confirmed COVID-19 case, an Uzbek citizen returning from France; on March 16, that number had risen to six — four of the additional cases relatives of the first and the fifth new case an Uzbek citizen just-arrived from Istanbul. The government reportedly has barred the entry of foreigners, suspending international air and road links as of March 16. Schools and universities have been ordered to close for three weeks and public events have been cancelled.
In detailed reports from both Kazakhstan and Uzbekistan, Eurasianet has chronicled the same kinds of panic and concerns seen elsewhere in the world, including panic-buying, price gouging and misinformation.
In neighboring Tajikistan, authorities maintain that there are no cases yet. Nevertheless, the Asian Development Bank (ADB) has allocated a $100,000 grant from an ongoing health project to support Dushanbe in preparing for and preventing the spread of the virus.
Beyond the human impact of the virus itself, Central Asia is at great risk due to the reverberating effects of a global economy slowed by conflict, illness, shutdowns and worry. The price of oil has dropped dangerously in recent weeks, carried down by a fracture among oil-producing countries which resulted in ramped up production for Saudi Arabia and Russia, and further by rapidly dropping demand as the world slows its pace.
A similar oil price drop in 2014 — sans the added stress of a global pandemic — tanked regional economies. As Bruce Pannier explained recently, serious economic problems are on the horizon for the region, though some governments did take lessons from the previous crisis and have moved to head off the worst effects. 
Central Asia's number of coronavirus cases invariably will grow, and it seems impossible for any nation to be sparred from the spread. Regional cooperation — the buzzword of the last few years in Central Asia — will face its toughest challenge yet, with borders being closed and trade and transport coming to a halt. It's yet to be seen how well Central Asia's states are communicating with each other about this crisis and what room there is to provide assistance and advice across borders. But within the crisis is an opportunity to capitalize on improved relations and communication across the region for the betterment of the regional community.