Central Asian States Take on 'False Information'
Laws put in place to support the fight against COVID-19 by targeting false information are easily abused to crack down on negative opinions and dissent.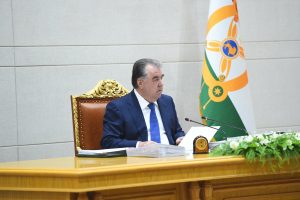 Central Asian governments are reckoning with the coronavirus pandemic like the rest of the world. The region's governments have enacted various states of emergency, quarantines, and curfews, many of which have eased or ended even as case numbers continue to expand. Central Asian government policies have largely mirrored efforts elsewhere to control the pandemic by controlling its main vector: people. 
But these efforts are taking place within a regional context featuring full and semi-authoritarian governments that have long-standing obsessions with the primacy of "unity" for state security. Combined with poor track records on freedom of speech issues more broadly, Central Asian governments have also moved to actively ban and penalize the spreading of "false information."
As the upper chamber of Tajikistan's parliament considers amendments passed earlier in June by the lower chamber that would enhance to the country's administrative and criminal codes with pandemic-related rules, Tajik news outlet Asia Plus interviewed Ravshan Rajabzoda, deputy chairman of the lower house's Committee on Legislation and Human Rights about the changes, which include criminalizing the negligent spreading of COVID-19 and fines for those not wearing masks in public or disseminating false information about the virus.
In the body of the interview, one heading in particular gets to the core of an issue with echoes across the region: "All that is not official truth is a lie?"
In response to the question as to what could be considered "reliable information" Rajabzoda pointed to pandemic data provided by "competent authorities" like the Ministry of Health. When pushed with the suggestion that reliable information could also come from non-official sources, Rajabzoda replied that when it comes to the pandemic, data is reliable if it doesn't contradict official data. By default then, anything that contradicts official positions cannot possibly be true.
Given that Tajik authorities denied the presence of the virus in the country for more than month and half after its neighbors in the region registered cases — blaming mysterious deaths on swine flu and dismissing a spike in pneumonia cases as definitely not COVID-19 related — one should rightly be skeptical about the government's data.
Measures that penalize and criminalize the spreading of "false" information are problematic because they're so easy to abuse.
Take, for example, the case of Alnur Ilyashev in Kazakhstan. On June 22 he was found guilty of the "dissemination of knowingly false information that threatens public order during the state of emergency." A court in Almaty sentenced him to restricted freedom for three years and banned him from "voluntary political and social activism" for five years. Ilyashev, as RFE/RL reported, had helped organized protests against the government since 2019; he even unsuccessfully took the mayor of Almaty's office to court after his petitions to hold public meetings were rejected 35 times. He's now banned from such activism.
What false information landed Ilyashev in so much trouble? Simply his opinion, stated online. In late March, Ilyashev made a series of Facebook posts critical of the government's pandemic responses. He criticized First President Nursultan Nazarbayev's appeal for businessmen to pool funds to fight the virus. "A mountain gave birth to a mouse," he quipped, noting that Kazakhstan's richest had only managed to put together $41 million. In another post, he called Nur Otan — Kazakhstan's ruling party, founded and run still by Nazarbayev — a party of "crooks and thieves."
On April 17, Ilyashev was arrested. The authorities alleged that his online statements "endangered public order" during the state of emergency. (Kazakhstan's state of emergency ran from March 16 to May 11). Ilyashev's posts, the authorities argued, would cause the public "to be alarmed."
As RFE/RL's Kazakh Service reported last month, state authorities have hired firms to keep tabs on what's being said on social media networks, searching for "posts that could create a 'threat' to sociopolitical stability and also, as part of the fight against the spread of the coronavirus, the dissemination of false information about the virus or government measures to battle it."
Tajikistan and Kazakhstan are not outliers; versions of the laws and measures mentioned above exist throughout the region (and are also not entirely unique to the COVID-19 era). In late May, Reporters Without Borders (RSF) flagged a bill put forth by two Kyrgyz parliamentarians aimed at combating the "manipulation of information" online. The bill as proposed would block online information "likely" to be false or inaccurate as determined by an "authorized public body." Uzbekistan in late March amended its criminal code to include stipulations pertaining to violating quarantine and "spreading untrue information on the spread of the infection." The explanation from lawmakers pointed to preventing "unjustified panic."
In a recent article (very much worth reading in full) assessing regional responses to the pandemic, from information control to enforcement of quarantines and curfews via smart city technologies, Edward Lemon and Oleg Antonov conclude: "While such measures are framed as being in the public interest, and they have been somewhat effective in curbing the spread of the virus, next time they may not be used for such noble purposes."
Arguably, as in the specific case of Alnur Ilyashev, some Central Asian government measures enacted to combat COVID-19 are already being deployed for less-than-noble purposes.