More Arrests Linked to February Ethnic Violence in Kazakhstan
Kazakh authorities say 25 have been arrested in connection to deadly violence targeting the Dungan community in February.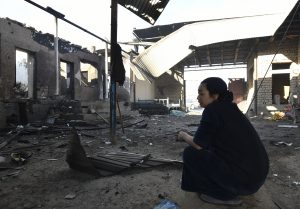 On Friday, March 27 Kazakh authorities announced the arrest of 25 people in connection to deadly clashes that took place in early February. 
The violence in villages near the Kazakh-Kyrgyz border that targeted Dungan communities resulted in 11 deaths and nearly 200 injuries had an unclear spark. The government characterized the origin of the violence as a road-rage incident, meanwhile locals suggested the violence was a backlash to rumors that Dungans had assaulted a Kazakh man and underlying interethnic tensions. More recent statements from Kazakh officials suggest that both iterations have some truth, combined with the spread online of videos of at least two road incidents and "criminal elements" promoting "social discord."
On March 1, Kazakh President Kassym-Jomart Tokayev visited the Zhambyl region and met with villagers. He reportedly blamed "criminal groups" for the violence, suggesting a clash between criminal groups over smuggling business.
Writing for The Diplomat in February, Paolo Sorbello shed light on the economic aspects of tension between Kazakh and Dungan communities. Dungans are a minority in parts of Central Asia descended from ethnic Chinese Muslims who fled China in the mid-19th century.
The above evolution of the story illustrates the complexity of tension in the region — no single reason for the violence but a confluence of triggers, sensitivities, vulnerabilities and frustrations. There is a hesitance on the part of Nur-Sultan to focus on the ethnic nature of the violence. As Sorbello previously wrote "By focusing on 'interethnic harmony,' post-independence Kazakhstan has built a fragile house of cards that only holds when socioeconomic conditions are favorable for most." But by ignoring the ethnic nature of the clashes, the government risks overlooking a critical facet exacerbated by criminal activity, rumor-mongering, and socioeconomic factors.
The arrests announced last week by Deputy Prosecutor-General Yerlik Kenebaev are not the first associated with the February violence. Reports the day after the violence noted that 47 had been arrested or detained; a week later Kazakh authorities sparked upgrade in the affected Dungan community when three Dungan brothers were arrested for allegedly assaulting police during the violence. Kazakh authorities have said that they are investigating more than 120 cases in relation to the violence, from murder charges to arson and robbery.
Per RFE/RL reports, Kenebayev said that the 25 were arrested in special operations in Almaty, Shymkent and Zhambyl, the southern region where the initial violence broke out. Kenebayev said those arrested "took active part in the riots" and included Kazakhs, Dungans and Kyrgyz.
Kazakhstan has an estimated 72,000 Dungans, mostly living along the Kazakh-Kyrgyz border. RFE/RL reported in mid-February that 20,000 people, mostly Dungan, had fled across the border into Kyrgyzstan where fellow Dungans welcomed them with food and medical assistance.