Taiwanese Air Force Scrambles Jets Amid PLAAF Flyby
The Chinese drills took place shortly after the election of a new chairman for Taiwan's opposition KMT party.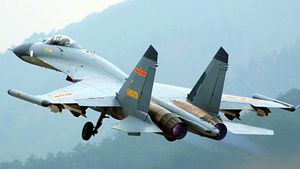 On Monday, the Taiwanese Ministry of Defense said that Chinese military aircraft flew into Taiwan's air defense identification zone without approval. The incident follows other similar flybys — including one where Chinese military aircraft crossed the Taiwan Strait median line — earlier this year.
In reacting to the Chinese aircraft, the Taiwanese air force — officially known as the Republic of China Air Force — scrambled its fighters. The Taiwanese Ministry of Defense condemned the Chinese move.
According to a Taiwanese statement, the aircraft included Chinese People's Liberation Army Air Force (PLAAF) Shenyang J-11 multirole fighters and KJ-500 airborne early warning and control aircraft. The PLAAF aircraft flew over waters southwest of Taiwan. Notably, the incident took place at nighttime.
"After our air reconnaissance and patrol aircraft responded appropriately, and broadcast [an order] to drive them away, the Communist aircraft flew away from our Air Defense Identification Zone," the Taiwanese Ministry of Defense said in a statement
In recent years, the Chinese People's Liberation Army Navy (PLAN) and PLAAF have devoted considerable attention to operational training in and around the Taiwan Strait, including in the Bashi Channel south of Taiwan and the Miyako Strait, which runs through Japan's Ryukyu chain.
Last month, a similar incident took place with J-11 fighters and Xian H-6 bombers flying south of the island, first through the Bashi Channel, which separates Taiwan from the northern Philippines, into the Western Pacific, and then returning to Chinese airspace through the Miyako Strait.
The Chinese Communist's long-range far-out-at-sea missions have impacted regional security and stability and endanger the peace and welfare shared by all parties in the region," the Taiwanese Ministry of Defense said then.
Tensions between China and Taiwan spiked in 2016 with the election victory of President Tsai Ing-wen and the independence-leaning Democratic Progressive Party. Tsai won another resounding mandate in elections last month, winning the highest-ever vote total in any election in Taiwan since the island transitioned to democracy.
Monday's incident comes shortly after the Kuomintang, Taiwan's founding nationalist party, experienced a change in leadership. Johnny Chiang, the KMT's new chairman, has expressed an intention to steer the party away from the so-called "1992 consensus" between Beijing and Taipei.
After Chiang's election as KMT party chair on March 7, Beijing did not send him a typical congratulatory note, which many in the Taiwanese media viewed as evidence of Chiang being viewed by the mainland less favorably than his predecessors who had been viewed as generally more friendly toward the mainland.