Tajik 'Election' Delivers Expected Result
One "election" down, one more to go this year for Tajikistan.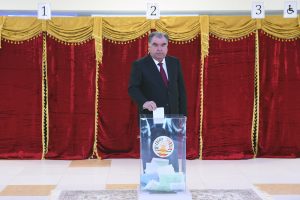 There's not much to say about Tajikistan's parliamentary election, held on March 1, which delivered the expected victory to President Emomali Rahmon's party and a small array of pro-government outfits. The Social Democratic Party of Tajikistan, according to analysts the only opposition party left in the country following the 2015 banning of the Islamic Renaissance Party, failed to meet the threshold to gain a single seat per the official government results.
As RFE/RL reported, Tajikistan's Central Election Commission announced unsurprising preliminary results on Monday. The commission chairman, Bakhtiyor Khudoyorzoda, said that the People's Democratic Party — Rahmon's party — captured 50.4 percent of votes, securing 47 seats in the 63-seat Assembly of Representatives. (If that math looks funny it's because Tajikistan uses a mixed system: 41 seats selected in single-seat constituencies and 22 by proportional representation nationally.)
Six other parties scored seats. From Eurasianet:
The other parties that qualified for seats in parliament are puppet bodies and have accordingly refrained from criticizing the government. The runner-up in terms of votes cast was the Party of Economic Reforms, with 16.61 percent. Other parties that got into parliament were the Agrarian Party, with 16.5 percent, the Socialist Party, with 5.15 percent, the Democratic Party of Tajikistan, or DPT, [with] 5.1 percent, and the Communist Party, which got only 3.1 percent of the vote, but secured a seat in a single-mandate district.
The Social Democratic Party of Tajikistan was the only party to fail to meet the 5 percent national threshold (and none of its five candidates won a single-seat constituency like the communists did).
Tajik election officials claim that 4 million votes were cast, 86 percent of the eligible voting population.
None of the above numbers are verifiable without relying on government-provided statements. The OSCE sent a small, short-term election monitoring mission and has not, as of writing, yet released any comment. No previous Tajik election has been judged free and fair by legitimate international observers; past criticisms have highlighted Tajikistan's repressive media environment, government pressure on opposition parties, and various kinds of voter fraud, including proxy voting and group voting.
As RFE/RL reported ahead of the election, there was little public interest in the exercise:
There is little enthusiasm about the upcoming elections among voters across the country.

"My vote doesn't make a difference, we already know who will win," a schoolteacher from Dushanbe told RFE/RL's Tajik Service. "Why even bother to hold an election and waste money? The government should spend it on something more useful, for school renovations, for example, so we don't have to demand the parents to pay for paint [for the walls]."

The teacher spoke on condition of anonymity out of fear for being retaliated against because of his criticism, as the Tajik government doesn't tolerate dissent.
The teacher's comment — "Why even bother to hold an election and waste money?" — is an astute observation. Why does the Tajik government bother with a sham election? In one view, it's part and parcel of a farcical dance with the (Western) international community, which continues to promote "democracy" in name but accept something much less in practice, so long as the niceties of regular polls are preserved. Suspending elections entirely, while perhaps a wise economic move, would be too obvious for the West to ignore. 
In addition, part of Tajikistan's (and the rest of Central Asia's) post-Soviet independent identity is built on its being a democracy in name, if never really in practice. Tajikistan, with the horrific experience of a civil war from 1992-1997, is especially sensitive to matters of stability. Arguably, the hot debates of a real democracy, public displays of dissent and alternative views, touch this nerve. And the Rahmon government has done serious propaganda work to shift understanding of the civil war and its end to highlight Rahmon as singularly responsible for peace in the country (for more on that, check out Edward Lemon's lead article in the March issue of our magazine).
There will be no surprises in Tajikistan's other election this year, either. It will shock no one if Rahmon stands for election again when polls roll around (no date has been set yet). Rahmon is now the region's oldest sitting president — by age (67) and longevity (26 years). Central Asia's period of transition from the first generation of post-Soviet leaders to their successors is a delicate, if elongated, moment. Various models have played out: repeated revolution in Kyrgyzstan, death-in-office in Turkmenistan and Uzbekistan, and resignation (but looming, lingering) in Kazakhstan. But even if Rahmon doesn't run, it will surprise very few observers if he defers and offers up his son — Rustam Emomali, the current presidentially appointed mayor of Dushanbe — as a successor.