Why Japan Hesitated Before Postponing the 2020 Olympics
Tokyo had to weigh its options carefully.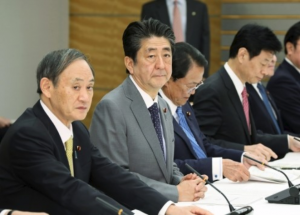 Now that Japan and the International Olympic Committee have agreed to postpone the Summer Olympics to "not later than summer 2021," it is an opportune time to look back at the hesitation of the Japanese government to make a decision on this matter.
A litany of factors were at work.
First, the Abe government had been projecting the hosting of the 2020 Summer Olympics as one of the most important achievements of its term and was loath to let the dream go. To be realistic, it had put in a lot of hard work and this included a personal push by Prime Minister Shinzo Abe to bring the Games to Tokyo.
Second, the delayed Summer Olympics will obviously have financial implications and these still need to be worked out. If Abe would have taken this decision alone, he would have to shoulder the entire responsibility for this decision, but now with the IOC in tow, he is in a much stronger position.
Third, a unilateral decision from Tokyo on this matter may have also impacted Abe's long-time legacy. Abe has been in power since December 2012 and would like to leave a lasting legacy when he leaves office. While he had been advocating constitutional change, he has not been able to bring it into effect. In addition, his initial response to the outbreak of the coronavirus crisis in Japan has come in for a lot of criticism, both within the country and outside of it.
Fourth, there were a lot of sponsorships at stake. In addition, a huge number of tickets have also been sold, both within the country and outside.
So what changed?
Some within Japan had already started clamoring for the Games to be postponed. A member of the Japanese Olympic Committee, Kaori Yamaguchi, had called for the Games to be postponed since "athletes are unable to prepare adequately" as a result of the coronavirus outbreak. Things, however, really started to change when Canada announced that it would not be sending a contingent to the Tokyo Olympics if they were held this year while the U.S. Track and Field chief also pushed for the Games to be postponed.
Another factor that may have weighed on Tokyo's mind is that it risked the chances of secondary infections from athletes and sportspersons who may be carrying the virus while asymptomatic. One more issue that had already been flagged is the oppressive summer heat in Tokyo, due to which the marathon event had already been shifted out of Tokyo, to Sapporo in Hokkaido.
Finally, now that the Games have been officially postponed, it actually gives the Abe government and Japan the chance to put on an even better show than what had been planned for this summer. It is up to Tokyo now to make the most of this postponement.
Dr. Rupakjyoti Borah is a Senior Research Fellow with the Japan Forum for Strategic Studies, Tokyo. His books include The Elephant and the Samurai: Why Japan Can Trust India and Act-East via the Northeast. The views expressed are personal. Twitter @rupakj.