Without Abe, Japan's Conservatives Are at a Crossroads
Throughout his political career, former Prime Minister Abe Shinzo was at the center of Japanese conservative politics. With him gone, how will the conservative movement go forward?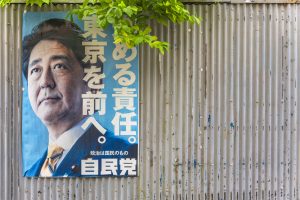 Grief and soul searching has been ongoing within conservative circles in Japan since the assassination of former Prime Minister Abe Shinzo on July 8. That process reflects the significant influence Abe had over the conservative movement: Before his death, he had been the leader of a reliable base of the Liberal Democratic Party (LDP).
Every month since his death, conservative magazines have published special issues featuring Abe's life and legacy. Conservative content creators have been delivering programs with Abe's image as a backdrop. And the largest, and most conservative leaning, faction within the LDP, Seiwakai, still carries "the Abe faction" as their unofficial alias, in respect to their late leader. The faction is still mulling over whom to pick as a successor.
Throughout his political career, Abe was at the center of Japanese conservative politics. When he was first elected as a member of the Diet in the beginning of the 1990s, he aligned himself with conservative policymakers, advocated for conservative priorities – notably a tougher stance toward North Korea in response to the abduction issue, which was revealed when Pyongyang admitted to kidnapping 13 Japanese citizens in 2002 –  and promoted himself as the youngest prime minister since World War II.
During his first term from 2006-07, Abe pursued notable conservative policy goals that delighted his base. The revision of the school education law in 2006, which encouraged students to "love our country and hometown," was an overture to his allies. This act voiced concerns that the preexisting Japanese education was "masochistic," meaning that it failed to nurture pupils' patriotism. Further, Abe's passage of the National Referendum Act, and the promotion of the Defense Agency to the Ministry of Defense, reflected the desires of conservatives, who wanted to remove the constraints that they believed prevented  the nation from being able to protect itself.
These achievements allowed Abe to score points with his conservative base; however, the eruption of scandals, and a seeming aloofness that kept him from tackling the impending pension problem, forced him out of office within a year. Nevertheless, the impression that he left on the conservatives cemented their approval, and established Abe's conservative credentials, effectively enabling him to gain enough momentum to pursue a second bid as prime minister in 2012.
Although Abe governed as an overtly conservative statesman from 2006 to 2007, he learned from his past mistakes. During his second term in power, he sought moderation, pursuing policies that were sometimes disapproved of by his base. Right after reclaiming the premiership, he made "Abenomics" his pet project, sending a message to the public and the world that he would prioritize Japan's economic revitalization, a policy direction that ought to be embraced by all political denominations.
However, in addition to utilizing monetary policy aggressively to promote economic growth, he created a new residence status to invite foreign workers to compensate for the labor shortage in Japan. This measure concerned hardline conservatives who feared that it would change the face of the homogenous Japanese society.
Nevertheless, when the necessity arose, Abe didn't hesitate to keep his conservative base at arm's length. In early 2020, when COVID-19 began to spread outside of China, conservatives criticized Abe's unwillingness to ban the entry of Chinese travelers as a measure to contain the pandemic. Responding to the criticism from his base, Abe invited Naoki Hyakuta, a bestselling author turned conservative pundit, to his official residence, widely seen as a move to appease his base.
In spite of the frustration the conservatives felt over Abe's policies during his second bid, due to the reliability of his conservative credentials, these differences of opinion did not ultimately force them to defect from Abe's orbit. Likewise the LDP's supporting base remained loyal. However, since Kishida Fumio assumed the premiership in fall 2021, indications suggest that the once-reliable conservatives are fleeing from the LDP – a process accelerated by Abe's death.
Prior to the upper house election that was held this year, Wada Masamune, an LDP conservative firebrand from the House of Councillors, published an article warning that the grassroots conservatives are fleeing the LDP due to their disagreement with Kishida's stance on matters such as foreign policy. The conservatives, generally hawkish toward China, were disenchanted by Kishida's selection of Hayashi Yoshimasa as his chief diplomat, a decision that reportedly ignored Abe's objection. Due to Hayashi's past as the head of a parliamentarian group promoting China-Japan relations, he has been ridiculed extensively by conservatives on social media and in right–wing publications, which may have partially contributed to their disapproval of Kishida in the first place.
Wada's prophecy seemed to be vindicated by the political events that followed his warning. The results of the 2022 upper house election saw performance gains by right-leaning political parties such as Nippon Ishin no Kai and Sanseito – a newly emerged political party that is more conservative than the LDP in most policy positions. Meanwhile, the LDP saw a decrease in the number of ballots that were cast directly for the party through the proportional representation system. In a recent poll issued by Jiji, Kishida's approval rating has plummeted to below 27.4 percent, less than Abe's lowest numbers, further reinforcing Wada's claim that conservatives are leaving the LDP.
Although they do not comprise a significant portion of the public, Japanese conservatives are influential enough to demand that politicians to keep notice of them, as shown by Abe's relationship with them over time. However, with Abe, the unifier of the conservative coalition now gone, the conservatives are still in the process of grieving. As part of that process, they are mulling over which individuals or parties will receive their approval in the post-Abe world, which will be crucial for the future dynamic of Japanese politics.