How South Korea Is Building Influence Through COVID-19 Testing Kits
People-to-people ties and government connections below the national level have been playing an outsized role in exports of the crucial tests.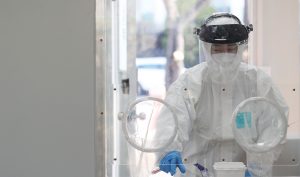 South Korea's COVID-19 test kits are now a critical solution to a universal problem. How the country has sent these diagnostic kits abroad so far is suggestive of a massive opportunity for Seoul to build its image in the world as a responsible actor and add to its bona fides as a middle power.
South Korean firms have been ramping up the production and export of diagnostic tests, but high global demand has outstripped this new supply. In addition to the allocation dilemma, there are also obstacles posed by various regulations and different government approaches to the virus – between and even within countries. Amid these difficult questions, people-to-people ties and government connections below the national level have been playing an outsized role in determining how these kits are exported. These exports have proven to be an effective means to enhance existing bonds and build new relationships, particularly below the official diplomatic level. Nowhere is this approach clearer than in the United States – the current global epicenter of the disease – where the White House has largely delegated responsibility for handling the virus to the states.
As U.S. states try to take steps toward reopening their individual economies, their testing capacity is becoming more critical. According to an analysis by the Harvard Global Health Institute, thus far, 31 states have insufficient testing levels, and 10 states would need at least 10,000 more tests a day to begin a gradual reopening by May 1. For instance, New York, the state with the largest number of cases, would need to increase testing by more than 10,000 per day. For Colorado, research suggests the state would need to perform 15,950 tests daily to be ready to reopen by May, but its recent number of tests per day has been around 3,000 to 4,000.
The United States has been trying to increase its coronavirus testing capacity by increasing domestic production and importing diagnostic kits from countries like South Korea. However, due to logistical challenges, such efforts have fallen far short of reaching 2 million daily tests – the nation's potential testing capacity as suggested by the White House. Also, competition for the limited national stockpile of testing supplies has delayed individual states from receiving needed supplies, further hindering testing capacity nationwide.
Amid the continuing COVID-19 test shortage problem, some American politicians at the state level have independently imported South Korean test kits, relying on their personal connections instead of waiting for the federal government's assistance. Maryland Governor Larry Hogan was able to secure enough test kits from South Korea's LabGenomics to run 500,000 tests. Central to Hogan's success was his warm relationship with South Korean Ambassador Lee Soo-hyuk and the governor's Korean American wife, Yumi Hogan, who helped to close the deal with South Korean manufacturers.
Following Maryland, Colorado also has purchased 100,000 tests from South Korea, capitalizing on U.S. Senator Cory Gardner's established bonds with the country from serving as the Chairman of the Subcommittee on East Asia under the Committee on Foreign Relations. Moon Seoung-hyun, the deputy chief of mission at the South Korean embassy in Washington, D.C., said they "particularly focused on the state of Colorado because of the close relationship with Senator Gardner."
Other countries are similarly leveraging bottom-up channels and people-to-people ties to win a share of South Korean test kit exports. For instance, a recent shipment to Brazil, which has imported the most test kits from South Korea, was purchased by the Sao Paulo state government with the help of the South Korean consulate general. In the U.K., Nick Markham, chair of London and Continental Railways and a former local politician in the city of Westminster, has been in contact with a Korean shareholder in LG Chemicals, who studied at the London School of Economics and has a personal fondness for Britain, about importing diagnostic kits. However, U.K. government regulations have delayed the transaction.
Aside from commercial sales, South Korean companies are also donating diagnostic kits, further adding to the country's positive image during the pandemic. Samsung Heavy Industries Nigeria has secured 5,000 test kits from the South Korean government to help with the local response. Similarly, LG Group donated 50,000 kits to the Indonesian government in response to a request from Jakarta. Seoul has stated its intent to donate tests to additional countries, including partners in Africa and the Middle East, based on bilateral relations and partners' ability to tackle the virus on their own.
Collectively, these cases represent a new opportunity for more direct, potentially lifesaving outreach to millions of people around the world for South Korea. The streamlined influence and goodwill the country has been able to capitalize on so far stands only to increase in the coming weeks and months as domestic manufacturing capacity of the test grows. Seegene Inc., one of South Korea's major producers of COVID-19 tests, expects its current exports of 3 million tests per week will increase to 5 million in May. The company is certainly not alone in sending more kits overseas. South Korea sent nearly $132 million worth of coronavirus diagnostic kits overseas in the first 20 days of April, up significantly from around $50 million in all of March.
The COVID-19 pandemic is a global tragedy. But amid the grief and uncertainty, the adept response to the coronavirus by the South Korean public and private sectors is proving beneficial to the world. In the long run, that will be more valuable than any profit made from the test kit sales themselves.
Kyle Ferrier is a Fellow and Director of Academic Affairs at the Korea Economic Institute of America (KEI) and a contributing author to The Diplomat's Koreas blog.
Soojin Hwang is an intern with KEI and a recent graduate of the M.A. in Security Studies program at Georgetown University.