Indian Tea Plantation Workers Look to the World Bank to Prevent a Coronavirus Disaster
Thousands of workers vulnerable to COVID-19 on Indian tea plantations expect urgent investment from a new World Bank funding package.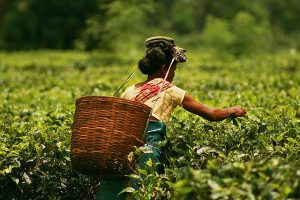 Since the World Bank announced a $14 billion funding package for the COVID-19 pandemic last month, tea workers living in squalid conditions on plantations owned by the World Bank and Tata Group – which owns the Tetley brand – have been watching and waiting.
Out of the total $14 billion package, it was announced the International Finance Corporation (IFC) – the Bank's private sector arm – will provide $2 billion to support existing clients to protect jobs and workers vulnerable to the pandemic. As the financing was approved on a fast-tracked basis, it is now being decided precisely where that money will be spent.
Tea workers at Amalgamated Plantations Private Limited (APPL), which the IFC has equity in, hope the funding will come their way after years of broken promises and investment shortfall has rendered them sitting ducks to the pandemic.
APPL is one of the largest tea producers in India. Its 25 plantations in India's northeast are home to over 155,000 people, including workers and their families who depend on the plantations for their housing, health care, water and sanitation, and other services. Most workers are descendants of Adivasis (or indigenous peoples) forcefully brought to the plantations by the British in the 1800s from central India. With a mandate to reduce poverty, the IFC invested in APPL in 2009, aiming to empower workers through introducing a shared ownership model and bringing conditions into line with the IFC Performance Standards. The Tata Group is the majority shareholder, owning 65 percent of APPL; the IFC owns 16 percent of the company and worker-shareholders own about 9 percent.
The root causes of APPL workers' dismal health conditions have been well-documented. In November 2016, the IFC's independent watchdog, known as the Compliance Advisor Ombudsman, released a scathing investigation following a complaint by local organizations supporting tea workers in the state of Assam. The investigation found a clear relationship between poor living conditions and workers' susceptibility to disease. The watchdog reviewed studies of health indicators of Assam tea workers, revealing a high incidence of anemia and infectious diseases, including tuberculosis and respiratory illness. This susceptibility to disease is attributed to poor personal and household hygiene, unsatisfactory sanitation and housing, and the absence of functioning toilets, which leads many to openly defecate. The investigation also referred to highly critical assessments of a number of hospitals run by APPL, including unacceptable standards of sanitation and health care delivery and an inadequate supply of medication and doctors.
The IFC has squandered multiple opportunities to improve these hazardous living conditions. In its response to the watchdog's investigation, the IFC committed to a "two-year period of accelerated effort" to address shortcomings in worker health and safety, including "building new houses to close the shortfall; repair of houses requiring major/capital repair; provision of piped water to each household; [and] upgrade of hospitals." Sadly, a follow-up monitoring report by the watchdog in January 2019 found that those commitments had been broken, ostensibly because of a lack of funding. APPL, which has reported financial losses since 2015, told the watchdog it needed "more capital than is currently available." Instead of addressing this funding shortfall head on, the IFC has only committed to funding a facilitated dialogue and sector-wide study.
COVID-19 now threatens to exacerbate the health conditions of an already vulnerable population with likely disastrous impacts. Many workers already have compromised immune systems and suffer from infectious disease. Workers are unable to access reliable clean water or adequate housing, much less frequently wash their hands or socially distance. Workers report poor quality and intermittent water supply, and most live in dilapidated and overcrowded housing quarters. With daily wages of only 167 rupees ($2.20) per day, workers certainly cannot afford to stay home without pay. While the country is in the midst of a 21-day lockdown that began on March 24, the Assam government reportedly decided to allow tea gardens to resume operations from April 1 subject to permission from district authorities. Workers' advocates have condemned this move and are calling for the plantations to remain in lock down in the interests of worker health and safety.
The funding announced on March 17 is an opportunity for the IFC to urgently intervene. Workers at APPL should play a central role in formulating interventions. Grassroots groups active in organizing workers, suggest that funding is needed to:
Pay workers full wages during the lockdown period;
Provide a continuous supply of clean water and toilet facilities to each household so workers can maintain personal hygiene;
Equip plantation hospitals to test and treat COVID-19 cases by procuring testing kits, medication, ventilators, and necessary personal protective equipment; and
Conduct awareness-raising initiatives to help workers understand the symptoms of COVID-19 and the necessary precautions.
In January 2019, the IFC's watchdog warned that if further action is not taken, "IFC, as a part owner of APPL, risks perpetuating a system of employment with well documented negative impacts on workers and their families." Now that those impacts extend to imminently foreseeable health impacts from the COVID-19 pandemic, APPL workers expect the IFC to put its money where its mandate is.
Anirudha Nagar is Co-Director for Accountability Counsel's Communities program, supporting communities to defend their environmental and human rights and have their voices heard by the financiers of development projects.