Inter-Korean Relations Amid COVID-19
The North's stonewalling of South Korean assistance is more proof that Kim Jong Un has little interest in reconciliation.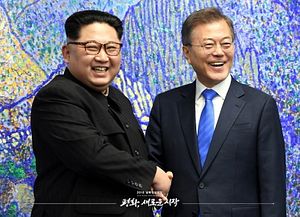 South Korea President Moon Jae-in's efforts to achieve rapprochement and peace on the Korean Peninsula largely ground to a halt in 2019. Now the question is whether the ongoing COVID-19 pandemic can help bridge some of the differences between Seoul and Pyongyang, further normalizing the bilateral relationship and paving the way for peace and reconciliation.
So far, however, no signs of such cooperation in battling the virus have been publicly displayed. North Korea's unwillingness to acknowledge the crisis and to cooperate on this issue is concerning.
History teaches us that crises can play significant roles in conflict resolution. For instance, it is claimed that the 2004 Boxing Day earthquake and tsunami to a large extent contributed to the peace in Indonesia's Aceh conflict. The government and the rebel group GAM put their differences aside to build up the disaster-stricken Aceh region and in the process, they achieved peace. One could therefore think that the ongoing pandemic constitutes an excellent possibility to get the Korean peace and reconciliation process unstuck.
Yet, such reconciliatory crisis cooperation has largely been absent, despite urging from Seoul. In an address to the nation on March 1 this year, Moon pledged inter-Korean cooperation on healthcare in battling the virus. But despite this ample opportunity to further bridge the gap between North and South, and the plea by Moon in his speech, there has been no action from the North. On the surface, there is one obvious reason for this.
North Korea officially maintains that it has no confirmed cases of COVID-19 and has completely closed its borders. An official acceptance of foreign medical and financial aid – South Korean or other – to combat a virus that officially does not exist would undermine the regime's projected image.
Korean Central News Agency (KCNA) – the North's official news agency – reported that Kim Jong Un had received and "welcomed" a letter from U. S. President Donald Trump, stressing cooperation between global leaders in combating the pandemic. However, this response reportedly did not entail a request for aid, nor any signs of willingness to cooperate with the South or the international community. The UN Central Emergency Response Fund (CERF) has allocated $900,000 to the World Health Organization to help North Korea battle the virus as it deems North Korea at risk "for imported cases." But despite this, North Korea does not acknowledge any cases of COVID-19 within its borders.
In life, it is difficult to help someone who does not want to be helped, or who does not acknowledge the problem. In international politics, where heavily fortified borders and all-powerful authoritarian regimes exist, it is nearly impossible to do so. Moon's admirable call for an inter-Korean effort against the pandemic was reportedly met with an encouraging letter from Kim on March 4, declaring his support for the South in its fight against the virus. However, until the North acknowledges the existence of the virus within the country, there will be no cooperation across the 38th parallel.
It is difficult to understand the North's rationale in this case. Kim has officially committed to peace and reconciliation, and experts seem to agree that the North is suffering from the pandemic.
It is possible the North Korean leadership's persistent and widely disseminated official juche ideology – where self-reliance is the main characteristic – constitutes a major hurdle in the present situation. In such a case, the leadership would be so fiercely indoctrinated with this ideology that they would not accept any help whatsoever.
Another reason for the North's strange position may very well be that Kim does not want to cooperate with the South on this issue. This could in turn indicate that he has no further interest in inter-Korean rapprochement. Such a position would not automatically mean an escalation of tensions, but rather a maintenance of the status quo. Indeed, the North's continued unwillingness to cooperate on COVID-19 is not the only worrying sign that the diplomatic progress of 2018 may be over. North Korea had a busy March for missile tests, launching nine in total during the month — despite the fact that the United States and South Korea cancelled their joint military exercise.
It is not far-fetched to conclude that a leader who is sincere in his ambition to achieve peace and reconciliation would have utilized this global health crisis to do so. That does not appear to be Kim Jong Un.
Magnus Lundström is an associate fellow at the Swedish Institute of International Affairs' Asia Program.