Japan Intercepted Chinese Military Aircraft 675 Times in Fiscal Year 2019
This marks a six percent increase compared with the same period in fiscal year 2018.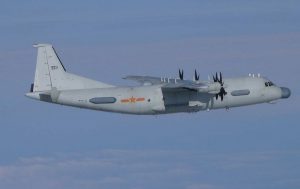 Japan Air Self Defense Force (JASDF) fighter jets scrambled fighter jets 675 times to intercept Chinese People's Liberation Army Air Force (PLAAF) and People's Liberation Army Navy Air Force (PLANAF) aircraft between April 1, 2019 and March 31 2020, the Ministry of Defense (MoD) in Tokyo announced on April 9.
The 675 scrambles conducted by the JASDF against PLAAF/PLANAF planes constitute a 5.8 percent increase compared to the prior year. It marks the second highest number of scrambles in response to Chinese military aircraft for a one-year period since 1958.
In total, the JASDF scrambled fighter jets 947 times in fiscal year 2019 to respond to foreign military aircraft approaching Japan's airspace. In comparison, during fiscal year 2018 the service conducted 999 sorties against foreign military aircraft. The peak year for JASDF scrambles against foreign military aircraft remains 2016 with 1,168 reported sorties.
Out of the 1,168 scrambles in 2016, 851 were conducted against PLAAF and PLANAF aircraft. In 2017 and 2018 that number was 500 and 638 respectively.
During fiscal year 2019, the JASDF also scrambled its fighter jets 268 times to intercept Russian military aircraft. The JASDF conducted a total of 343 scrambles in 2018, or 34 percent of the total against Russian military aircraft, down from 390 in 2017.
"Russian military aircraft conduct the majority of their missions along the eastern rim of the Sea of Japan and north of Hokkaido," I explained in February. "Russian long-range bombers — principally nuclear-capable Russian Tupolev Tu-95MS strategic bombers — have also periodically circumvented the main Japanese islands during long-range patrols."
In 2019, Russian Aerospace Forces aircraft have violated Japanese airspace on three occasions between April and December 2019.
The JASDF deploys Mitsubishi F-15J/Kai all-weather air superiority fighters, F-2 multirole fighter jets, a Mitsubishi license-produced variant of Lockheed Martin's F-16, and F-4EJ/RF-4 Phantom II fighter aircraft for interception missions.
Scrambles against Chinese and Russian military aircraft are conducted by the JASDF's Northern Air Defense Force, the Western Air Defense Force, the Central Air Defense Force, and the Southwestern Composite Air Division.
In detail, JASDF's Northern Air Defense Force conducted 198 scrambles, the Western Air Defense Force 133, the Central Air Defense Force 35, and the Southwestern Composite Air Division 581 scrambles during fiscal year 2019. The JASDF last scrambled fighter jets on March 23 to intercept PLANAF Shaanxi Y-9 Y-9JB (GX-8) electronic warfare and surveillance planes that were spotted over the East China Sea.
Notably, the MoD has reported an uptick in surveillance missions of Y-9 aircraft through international airspace between the Japanese islands of Okinawa and Miyako in the East China Sea for the past two years. The strait is a principal entryway for the People's Liberation Army Navy (PLAN) into the Pacific Ocean.