Japan's Surge in COVID-19 Infections Threatens To Derail Healthcare System
Overstretched emergency rooms struggle to treat a growing number of coronavirus inpatients.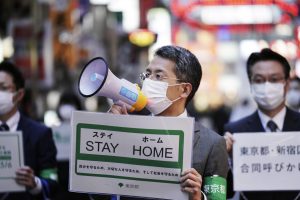 On the front line of Japan's COVID-19 battle, hospital emergency rooms unmask underlying cracks in a national healthcare system unable to cope with the rise of patients despite policy shifts to reroute medical care around critically ill patients.
Since the state of emergency was expanded across Japan's 47 prefectures on April 16, the spread of infections has not slowed down enough to help hospitals stay ahead of the influx of patients. In late February, local media reported emergency patients suspected of having COVID-19 being turned away from medium-sized hospitals in fear of a risk of hospital-acquired coronavirus infections. Fast forward two months and hospitals with designated coronavirus ICU beds are nearing capacity as a shortage of protective gear and limited medical facilities make it impossible to accept new patients amid a surge in daily infections.
The Japanese Society of Emergency Medicine issued an urgent statement on April 9 stating that the collapse of the medical system was already evident, with some hospitals being unable to accept severely ill stroke or heart attack patients in need of immediate medical treatment. A Jiji press survey found at least 10 hospitals with life-saving emergency facilities temporarily restricted or suspended patient intake last week due to the lack of beds and a shortage of staff and medical supplies.
The availability of intensive care units (ICUs) is a valuable indicator of a health system's ability to weather an epidemic. According to the Japan Medical Association, Japan has about 6,000 ICU beds and 5,000 high-care unit beds across Japan. But the number lags behind other advanced countries such as the United States where an estimated 35 ICU beds are available per 100,000 people — a stark contrast to only five ICU beds per 100,000 people in Japan. Under a worst-case scenario estimate prepared by the government, the number of severely ill patients during a peak in infections would be more than double the number of ICU beds available across 21 prefectures.
In a move to ease the strain on hospitals, the government has reorganized the role of public hospitals by moving COVID-19 patients with mild to no symptoms into hotel rooms staffed with doctors and nurses. Currently 210,000 hotel rooms have been secured nationwide to free up hospital space. Initially, all people testing positive for COVID-19 were hospitalized.
Although Japan has started expanding testing, with the launch of drive-through PCR testing and phone and online medical consultations, testing eligibility remains limited to two groups of people: those who have traveled to infected areas in China or who have come into close contact with a confirmed coronavirus case or those who have a temperature over 37.5 degrees and pneumonia-like symptoms that require hospitalization. The final decision to conduct PCR testing is based on the doctor's judgment, but more often than not doctors' requests are being denied due to local testing centers being swamped with cases
South Korea has ramped up diagnostic testing, having performed 601,660 PCR tests with a population of 51 million. However, Japan remains woefully behind, having conducted 141,600 tests for its population of 126 million. Infectious disease experts have openly criticized the strict test criteria, saying it would be possible to find more infections if testing is broadened to cover people showing mild systems. The lack of widespread testing means the high rate of positive tests relative to the number of tests makes it almost impossible to determine the actual number of infections in the community. Experts believe the actual rate of infection in Japan is far higher than official announcements, which raises the fear of an undetected and rampant spread of infections.