Making Sense of China's Latest Bid to Administer Sovereignty in the South China Sea
New additions to 'Sansha' City and a naming exercise for submerged features are the latest in Beijing's sovereignty-seeking toolkit.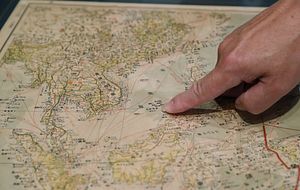 At the end of last week, China took yet another step to expand its administrative claims over the South China Sea. On Saturday, China's Ministry of Civil Affairs announced that the State Council of China had approved two new administrative divisions under Sansha City, an earlier administrative unit created in 2012 to encompass the South China Sea. While nominally a "city," Sansha encompasses 2 million square kilometers and more than 200 features.
The two districts — named Xisha and Nansha — use the Chinese names for the disputed Paracel and Spratly Islands, respectively, and correspond to those features. China claims the entirety of the Paracel and Spratly Islands under its capacious nine-dash line claim. Five other parties — Taiwan, the Philippines, Vietnam, Brunei, and Malaysia — have overlapping territorial claims with Beijing's nine-dash line; Indonesia and China have also locked horns over an exclusive economic zone overlap.
Separately, following the approval of the Xisha and Nansha districts, China's Natural Resources Ministry and Civil Affairs Ministry released names for some 80 geographical features in the South China Sea, many of which are underwater at high tide (and therefore legally distinct from rocks and islands, which receive certain maritime entitlements under the United Nations Convention on the Law of the Sea).
Together, these steps fit into an old pattern of China using its domestic institutions and legal frameworks to pursue its claims in the South China Sea. By administering these disputed waters and features by creating districts and issuing new names, Beijing is effectively attempting to assert sovereignty (never mind that underwater features are not up for sovereign claims, unlike surface-level features).
Unsurprisingly, the move led to immediate criticism from Vietnam — lately the most vocal of the other South China Sea claimants. Vietnam has faced particular challenges in recent years, with Chinese survey ships and coast guard cutters alike regularly operating in its exclusive economic zone. Hanoi also claims the entirety of the Paracel Islands.
On Sunday, a spokesperson for the Vietnamese Ministry of Foreign Affairs condemned the creation of the Xisha and Nansha districts. "These acts are not conducive to the development of the friendly relations between countries and further complicate the situation in the East Sea, the region, and the world," she said, using the Vietnamese term for the South China Sea. "Vietnam demands that China respect Vietnam's sovereignty and annul its wrongful decisions and not repeat similar activities in the future." Earlier this month, the Vietnamese government lodged protest with Beijing after a Vietnamese fishing vessel was struck and sunk after being rammed by a China Coast Guard ship.
Beijing's latest moves to administer sovereignty in the South China Sea are likely to do little to actually bolster the legitimacy of Chinese claims, which were famously rejected by an international tribunal in an arbitration case brought by the Philippines. Instead, these latest steps simply underscore how far China remains from acquiescing to any rules-based understanding of how these persistent disputes might be managed. Instead, Beijing continues to seek ways to administer sovereignty.