Philippines Extends Lockdown in Manila and Other High-Risk Areas to May 15
Health experts have warned against lifting restrictions too early as Filipinos hope for a way out of quarantine measures that continue to take an economic toll.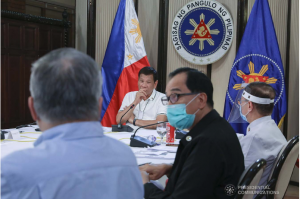 The Philippines on Friday extended its coronavirus lockdown in Metro Manila and other high-risk areas to May 15 as the country works to contain its ongoing coronavirus outbreak.
Along with Metro Manila and areas of central and southern Luzon Island, President Rodrigo Duterte also placed the provinces of Cebu, Davao, and Iloilo under lockdown, presidential spokesperson Harry Roque said in a taped address.
Duterte also threatened to institute martial law in response to alleged attacks by communist rebels after a week marked by heavy public criticism of police and military enforcement of the lockdown.
The strictest quarantine measures will be loosened in less affected areas of the Philippines, although a general community quarantine will remain, hinting at the government's potential plans for Manila should the outbreak begin to slow.
The Philippines has reported 7,192 COVID-19 cases as of Friday. Of those, 477 patients have died, while 762 have recovered.
All travel to and from Luzon has been prohibited since the island-wide lockdown began on March 17, although ports and airports will remain open to transport goods, Roque said on Friday.
The community quarantine measures have seen the closure of public transportation and nonessential businesses in Manila. Residents are under strict orders to remain at home and must carry quarantine passes when going outside.
Health experts have warned against prematurely lifting quarantine measures in the country's most affected areas. An interagency committee recommended Thursday that Manila and other areas of Luzon should remain under strict quarantine but advised restrictions could be loosened in parts of Luzon, which is home to about half of the country's 100 million citizens.
The lockdown has slowed the country's economy and displaced millions of workers. All points of entry remain closed to noncitizens.
The Philippines in past weeks has increased testing in the country, but estimated last week it had only tracked around a quarter of possible cases. Its health department has said it is too early to say the curve of infections has been flattened.
The country has conducted just 72,000 tests, and while quarantine measures will be loosened in some provincial and rural areas, there are concerns that infections have gone undetected there.
The health department said Friday it can now conduct 4,500 COVID-19 tests per day.
A group of researchers from the University of the Philippines released a study Wednesday that warned against lifting lockdown measures in Metro Manila, saying doing so could be "catastrophic."
"It can be stated that the ECQ is a success," the group said, using an abbreviation for "enhanced community quarantine" – the government's preferred term for the lockdown measures. "The transmission rates of COVID-19 have gone down for most provinces in Metro Manila… [but] the gains are not irreversible."
The extension comes as Filipinos continue to report the slow delivery of promised food and financial relief. Homeless and displaced residents have also struggled to find shelter. A fire last week left about 450 families homeless and staying in temporary shelters.
Authorities have been criticized for cracking down on government critics during the lockdown and for favoring a police and military-driven approach to enforcing quarantine restrictions.
Seven activists distributing food aid were charged last week with violating the country's COVID-19 emergency and inciting sedition, although the activists said they had proper permits. Actress and screenwriter Maria Victoria Beltran was also arrested and detained for two nights in Cebu after the city's mayor deemed a Facebook post she had made to be "fake news."
Philippine National Police chief Archie Gamboa said Tuesday all quarantine violators would be subject to immediate arrest without warning after a spate of violations, adding to concerns that a higher number of arrests could lead to outbreaks in the country's overcrowded jails and prisons.
On Tuesday, a police officer shot and killed an army veteran who supposedly violated quarantine guidelines. Video of the incident spread online on Wednesday, drawing widespread outrage among Filipinos. Gamboa said Thursday the officer, Daniel Florendo Jr., made a "judgment call." Witnesses disputed claims made by police that the victim had a gun in his bag.
Quezon City police filed a homicide complaint against Florendo on Friday.
Duterte said on April 1 he would order military and police to shoot dead anyone "who creates trouble" after residents of an informal settlement in Quezon City protested against the delayed delivery of promised food relief.
Duterte also warned Friday he may declare "martial law," but did not elaborate further, after the army said two soldiers were killed by New People's Army (NPA) rebels on Tuesday in eastern Luzon.
Government forces and the NPA have clashed during the coronavirus outbreak, although the NPA has declared a unilateral ceasefire until April 30. The government's own ceasefire declaration ended on April 15.