Survey: Chinese Report Less Favorable Views of US Democracy
The American political system remains unpopular in China.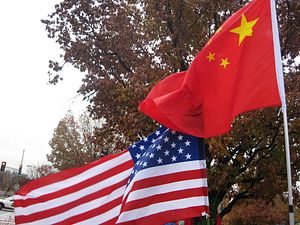 A new survey from the Eurasia Group Foundation finds that Chinese attitudes toward the U.S. political system and democracy are becoming more negative. When asked if they would like China's political system to become more like that of the United States over the next 20 years, respondents surveyed by the Eurasia Group Foundation were less favorable toward such a change than respondents last year.
In this year's survey, 17 percent of Chinese respondents said they would like China to become "much less" similar to the United States and 12 percent said "somewhat less" — an increase of 7 and 4 percentage points over last year's respondents. Separately, the 2020 survey results, taken in October 2019, when American support for protesters in Hong Kong remained high and the trade war continued, and between February 15 and March 3 this year, showed a general rise in unfavorable Chinese sentiment toward the United States. Twenty-eight percent of respondents reported an unfavorable view of the United States, up from 17 percent a year earlier. The number of respondents reporting a favorable view also fell from 58 percent to 39 percent.
In last year's survey, Chinese respondents were largely more positive about the United States, with 41 percent responding that they have a "somewhat" positive view of the U.S. itself and 17 percent saying they had a "very" positive view. At the time, just 9 percent were "very" and 8 percent were "somewhat" unfavorable  toward the United States. That was at the time a contrast with the largely acrimonious state of U.S.-China bilateral ties amid the then-raging trade war, which reached a "phase one" agreement by January 2020.
In the same survey last year, Chinese respondents were less well disposed toward American democracy overall, but not more than this year's results. Just 1 percent of respondents said they viewed American democracy very favorably as a model for China, 42 percent said they saw the U.S. system somewhat favorably, and 40 percent were neutral.
The Eurasia Group Foundation survey also asked Chinese respondents about other matters, including the broader influence of the United States in China and in the Asian region. Nearly half of Chinese respondents said that U.S. influence in the region was "very" or "somewhat" negative, with just 6.8 percent reporting a "very positive" view. Outside of China, the survey found that general views of U.S. popularity "held steady in the past year" across most other countries. The survey found that across the countries surveyed, 77 percent of respondents agreed that the United States would be preferable as a global leader for their country and 79.1 percent of respondents said that U.S. leadership was better for the world overall..