Taiwan President Apologizes After 28 Navy Sailors Infected in COVID-19 Cluster
Tsai Ing-wen vowed an investigation into Taiwan's military, which lawmakers suspect failed to report COVID-19 cases on board a vessel returning from Palau.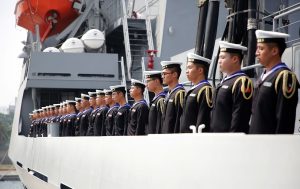 Taiwan President Tsai Ing-wen on Wednesday apologized and promised an investigation after at least 28 sailors on a naval ship tested positive for COVID-19.
The Central Epidemic Command Center (CECC) also sent texts to over 200,000 people in 10 cities and countries who had possibly been in contact with the infected sailors and urged them to practice self-health management.
The Panshih navy supply ship had been one of three vessels on a goodwill visit to Palau, one of Taiwan's diplomatic allies, from March 12 to March 15 before returning to Kaohsiung on April 9.
Its crew was allowed to disembark on April 15 – 30 days after its visiting its last port of call – but all 744 people on board the three vessels were recalled on Saturday and placed in quarantine facilities for 14 days after the CECC reported that three men interning on the Panshih had tested positive for the virus.
Tsai said Wednesday the military had erred in its handling of the Panshih case, but promised not to evade responsibility. "The military's business is my business," she said.
The Panshih has become the subject of intense speculation in Taiwan. Many, including lawmakers from both major parties, have raised suspicions that the military failed to report potential cases on board the ship.
Tsai rejected local media speculation that the flotilla could have stopped in other destinations aside from Palau, which has thus far reported no cases of the coronavirus and said Monday there is little chance the infections came from there.
Taiwan's foreign ministry said Wednesday it had tested 24 people working at its embassy in Palau, along with 24 Palauan citizens who had been in contact with the sailors. All tested negative for the coronavirus.
Yen De-fa, the defense minister, said on Tuesday two Navy admirals had been removed from their posts pending further investigation and expressed his own willingness to resign.
Yen, who has been under fire for approving the visit to Palau, said Tuesday he had reported his decision to Tsai on February 20, whom he said "respected" it. Tsai said Wednesday she knew of the mission but said "the decision was already made. The president should respect it."
Yen said Tuesday evening the military failed to carry out disease prevention plans during the mission. When asked for details on the mission, Yen said Chinese military vessels were sailing around Taiwan as the flotilla returned, giving the Taiwanese vessels an opportunity to monitor them.
Chen Shih-chung, the health minister and head of the CECC, said the center is still probing how the cluster became infected.
Sailors on board the ship visited over 90 locations in 10 cities after disembarking and before being recalled into quarantine.
People who visited those locations were informed via text by the CECC and asked to manage their health for 14 days by monitoring their temperature daily, wearing a mask while outside, and minimizing trips outside the home.
The new cluster of infections comes as Taiwan has enjoyed remarkable success in limiting the spread of the virus. Taiwan has reported 426 cases of the coronavirus, including the 28 cases on the navy ship. It has reported 55 local infections – and none since April 12.
Fan Shih-ping, a political science professor at National Taiwan Normal University, questioned in a Facebook post why the flotilla had been allowed to leave on March 5 and why relatively inexperienced naval cadets were part of the mission.
The mission had been characterized as a "special mission" by some figures, including Democratic Progressive Party (DPP) legislator Wang Ting-yu.
Chang Che-ping, Taiwan's deputy minister of defense, said Monday the mission was important to train navy personnel and cadets and to promote strong ties with the country's diplomatic allies.
Taiwan has donated face masks and thermal cameras to Palau and its three other diplomatic allies in the Pacific, which has been a battleground for influence between Taipei and Beijing. Last September, Kiribati and the Solomon Islands switched their diplomatic ties to China.
Taiwan's defense ministry said Sunday all military personnel would be required to wear masks at all times, effective immediately.