Taiwan, Palau Say They Will Open Travel Bubble Next Month
The diplomatic allies will open a travel bubble starting on April 1, potentially creating a framework for similar arrangements with other countries.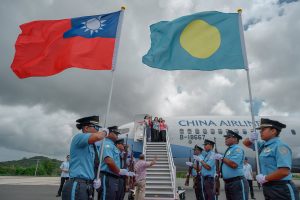 Taiwan will open its first travel bubble with Palau starting on April 1, Taiwanese officials announced Wednesday.
The arrangement, which had been anticipated for months, will allow tourists from Taiwan to visit Palau for up to eight days, and vice versa, with fewer entry and quarantine restrictions.
Palau is one of Taiwan's few remaining diplomatic allies and has confirmed no cases of COVID-19 since the start of the pandemic. Taiwan has been remarkably successful in containing the spread of COVID-19, recording just 998 total cases as of March 19 – most of them imported.
Chen Shih-chung, Taiwan's health minister and the head of its Central Epidemic Command Center, said Wednesday the bubble would begin with two flights per week scheduled between Taiwan and Palau.
Travelers from either side will be required to have not been infected with the coronavirus in the last three months, not been outside borders in six months, and not been asked to quarantine in the last two months, Chen told reporters on Wednesday.
Visitors will be required to test negative for the coronavirus before traveling. They will then enjoy streamlined quarantine restrictions upon arrival, but they will have to travel with tour groups on itineraries designed to avoid contact with locals and crowded areas, Chen said.
Tourists returning to Taiwan from Palau will simply be asked to conduct five days of "strengthened" self-health monitoring instead of undergoing the usual 14-day quarantine.
Taiwan Foreign Minister Joseph Wu said Wednesday the bubble would be opened with a trip to Taiwan by Palau President Surangel Whipps Jr., who will visit from March 28 to April 1 in his first trip abroad since being inaugurated in January.
Whipps will become the first foreign head of state to visit Taiwan since the COVID-19 pandemic began. Taiwan has welcomed some officials from foreign governments during the pandemic, including former United States health secretary Alex Azar and a delegation from the Czech Republic.
Taiwan has mulled opening other travel bubbles, although no other plans have been finalized.
Chen said Thursday Taiwan could potentially launch a travel bubble with Singapore, which has also been successful in containing the spread of COVID-19. Singapore has already relaxed restrictions on incoming travelers from Taiwan.
Transportation Minister Lin Chia-lung previously said discussions on travel bubbles were also taking place with Japan, South Korea, and Vietnam, but noted Singapore had been most active in discussions.
Taiwan is eager to restart its tourism industry as it looks ahead to its post-pandemic future. Chen also said Friday evening Taiwan will begin administering the AstraZeneca COVID-19 vaccine to medical personnel on Monday. Either Chen or Premier Su Tseng-chang could be the first to be vaccinated to calm public concerns over the shots.