US Air Force Selects Raytheon to Build Nuclear-Capable Long-Range Standoff Missile
Raytheon will be the sole contractor on the long-range standoff weapon.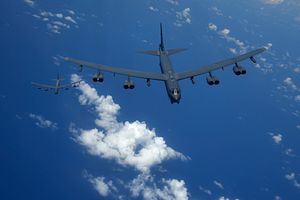 Last week, the U.S. Air Force announced that the Long-Range Standoff (LRSO) nuclear-armed cruise missile, a modernized U.S. nuclear capability, will be solely sourced from Raytheon. The decision ruled out an alternative bid by Lockheed Martin, which had its own design for the air-launched cruise missile (ALCM) that is slated to replace the AGM-86 ALCM.
The decision marks the effective end of the LRSO's Technical Maturation and Risk (TMRR) phase, whereby both Lockheed Martin and Raytheon had competed and offered separate LRSO designs. The TMRR began in August 2017.
"Our competitive TMRR phase, which included both Lockheed Martin and Raytheon as the prime contractors, enabled us to select a high-confidence design at this point in the acquisition process," Maj. Gen. Shaun Morris, U.S. Air Force Nuclear Weapons Center commander and program executive officer for strategic systems, said in a statement released on Friday by the U.S. Air Force Nuclear Weapons Center at Kirtland Air Force Base.
"And this early off-ramp of a contractor is completely in line with the existing LRSO acquisition strategy, which included periodic reviews to assess contractor designs. Lockheed Martin has been an excellent contractor and partner throughout the TMRR effort and this pivot to Raytheon does not represent a lack of effort or commitment on their part," Morris continued.
"Lockheed Martin has supported the nuclear enterprise for decades and we continue to value their expertise in sensors and nuclear certification and surety," he added.
The sole-sourcing of the LRSO via Raytheon mirrors the December 2019 decision by the U.S. Air Force to grant defense firm Northrop Grumman the Ground-Based Strategic Deterrent program, the replacement for the currently deployed U.S. Minuteman-III intercontinental-range ballistic missiles.
Unlike the LRSO, Northrop Grumman was the sole bidder for the GBSD contract. Boeing, the other prospective GBSD bidder, decided to withhold participation amid concerns about competing on cost — particularly over Northrop Grumman's dominance in the area of solid rocket motors.
Once developed, the LRSO will be delivered by U.S. B-52H Stratofortress nuclear-capable bombers as well as the upcoming B-21 Raider stealth bomber, which will replace the currently operational B-2 Spirit. The LRSO is expected to reach initial operating capability by the end of the decade. The LRSO is expected to the use the U.S. W80-4 warhead, which will be built specifically for the system.
Details about the specific capabilities of what will eventually become the LRSO remain limited. The system is designed to allow American strategic bombers to safely launch a nuclear-armed cruise missile from uncontested airspace, allowing the missile itself to maneuver in a low-observable way to its target.