US Religious Freedom Report Signals Improvements in Uzbekistan
For the first time in 15 years, USCIRF has recommended Uzbekistan not be deemed a country of particular concerns when it comes to religious freedom violations.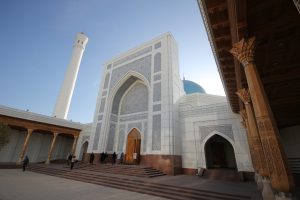 For the first time in 15 years, the U.S. Commission on International Religious Freedom (USCIRF) is not recommending that U.S. State Department designate Uzbekistan as a country of particular concern (CPC) under the International Religious Freedom Act of 1998 (IRFA).
Each spring, USCIRF releases its annual report documenting the state of religious freedom around the world in the previous year. The report also includes recommendations for the U.S. State Department regarding the designation of egregious violators of religious freedoms as "countries of particular concern" or CPCs. The designation, beyond being a classic name-and-shame tactic, also carries with it the possible imposition of sanctions — provided a waiver is not granted — if the State Department decides to designate a country as a CPC.
USCIRF's recommendations are just that, the recommendations of an independent, bipartisan commission. It's up to the State Department to choose where its concerns lie.
On April 28, 2020, USCIRF issued its annual report and recommendations. For the first time since 2005, USCIRF has recommended that Uzbekistan not be designated a CPC. Instead, USCIRF recommends Tashkent be placed on the Special Watch List (SWL), a category created by 2016 amendments to the IRFA, which is a status below CPC, but entails no penalties. 
The U.S. State Department moved Uzbekistan to the SWL in 2018, two years ahead of USCIRF's recommendation to do so.
In a cynical view, one could argue that none of this ever really mattered. Even when Uzbekistan was designated a CPC by the State Department from 2006 to 2018, it was granted a waiver from sanctions because of the U.S. war in Afghanistan and related U.S. national security interests. In this way, the direct penalties intended via the IRFA were never enacted. Also in a cynical view, the USCIRF is simply codifying a reality the State Department had already decided on two years ago. 
A less cynical view (and one I'd opt for, though certainly acknowledging the realities of the preceding paragraph) would take into account what USCIRF does itself in itse report: notable steps on the part of the Uzbek government "to address some of the long-standing and significant religious freedom concerns" in the country. USCIRF highlights in particular Tashkent's engagement with the United States on issues of religious freedom, the closure of the notorious Jaslyk prison and a "by and large successfully enforced" ban on law enforcement harassing religious communities. 
USCIRF does not ignore continuing concerns, either, making note of thousands of religious prisoners in jail on trumped up charges of extremism or membership in banned groups, as well as arbitrary extensions of prison terms and allegations of torture. Furthermore, Uzbek authorities are still working on fulfilling a pledge made in May 2018 to revise the country's 1998 religion law, which regulates and restricts religious activities.
The latest USCIRF recommendation marks an important step for Uzbekistan, acknowledging progress made under the administration of Shavkat Mirziyoyev. Arguably the next step is getting off USCIRF's radar entirely, but Tashkent faces significant challenges to reaching that goal that will necessitate difficult conversations not just about religious prisoners, but how secular states can and should interact with religious populations.