Will Japan's State of Emergency Kickstart a Telework Tech Culture?
Despite a state of emergency declared in parts of Japan, businesses have been slow to expand a work culture away from the office.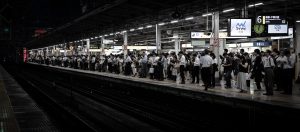 Last Tuesday a state of emergency was declared in Tokyo, along with seven other prefectures hard-hit by COVID-19, with the aim of intensifying calls to slash social interaction by 70 to 80 percent and office attendance by 70 percent. The state of emergency is expected to last one month. But unlike national emergencies elsewhere in the world that incorporate mandatory lockdowns and curfews that carry penalties, measures under Japan's state of emergency are unenforceable and rely on voluntary cooperation.
In a national emergency press conference, Prime Minister Shinzo Abe warned that if the current pace of infections continued, COVID-19 cases could reach 10,000 in two weeks and 80,000 in a month. He urged businesses to uphold a sense of crisis and to take necessary steps to reduce employees commuting to the office in order to achieve the social distancing needed to avoid an explosion of coronavirus infections.
Despite the warning, companies have come under the spotlight over a "business as usual" attitude during a state of emergency. A Ministry of Health nationwide survey conducted between March 31 and April 1 via the messaging app Line revealed that only 5.6 percent of 24 million respondents were engaged in telework. Meanwhile, a survey by think tank Persol Research Institute in mid-March found just 13 percent of respondents were working from home. A day after the national emergency came into effect, major train stations during Tokyo rush hour were still crowded with office workers in dark suits and white masks.
While government data shows the number of commuters fell 33 percent in the greater Tokyo area before the state of emergency, Abe criticized the current commuter figures as not being low enough. Yahoo shared similar data showing a 26 percent fall in users' location movement on April 8 – the day after the state of emergency was called — compared with the year before.
Under labor contract law, companies are required to take necessary precautions to ensure the lives and physical safety of their employees. Currently, this means corporate social responsibility involves creating a work environment that doesn't entail travelling to work. But there has been a great deal of reluctance in rolling out information and online communication infrastructure to help work around regular in-office protocol.
A Tokyo Chamber of Commerce survey in late March revealed that only 26 percent of member businesses had introduced teleworking or remote work. Overall, small-scale businesses with less than 50 employees are less likely to implement remote work compared to medium and larger businesses with employees between 50 and 300 employees.
While commuting congestion appears to have eased, many office employees have no choice but to head to work this week. On the outside Japan looks like a technological mecca with robot cabaret cafes, robotic ramen restaurants, and super-fast internet. But doing business in Japan is still centered around a traditional hanko ink stamp or seal used as a signature for contracts, invoices, and banking. In the unprecedented coronavirus age, the biggest barrier to working from home is the inescapable expectation of commuting to the office to finalize documents with a hanko seal. Line's Japan Legal Affairs Manager said each month there are as many as 1,000 paper contracts that need manual stamping. Although Japanese companies carry a reputation as digital enterprises with a technological edge, business operations still depend on physical stamping and exchanging documents via mail.
The coronavirus outbreak has caught many companies off guard, despite the Ministry of Economy, Trade, and Industry launching a nationwide telework campaign in 2017 to help companies adopt flexible working in time for the Tokyo 2020 Olympics and Paralympics. But teleworking within government ministries is also proving impractical due to the volume of confidential documents that cannot be taken home. Public servants have a staggered work system, which has halved the number of staff in the office. But at the current pace reducing numbers by 70 percent appears a mammoth task without concrete government direction.