Japan Ends Coronavirus State of Emergency, Aims to Gradually Reopen the Economy 
The government declares success against the coronavirus and moves to incrementally resume economic activity.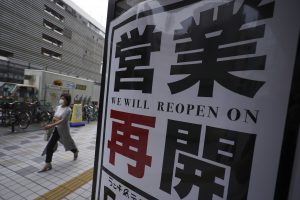 On Monday, residents in the capital breathed a sigh of relief after Prime Minister Shinzo Abe cancelled the remaining state of emergency in Hokkaido as well as Tokyo and its three surrounding prefectures, confirming that infection levels had been brought down to safe levels.
After seven long weeks of stay-at-home requests and social distancing, a government panel of experts gave the go-ahead based on the criteria of improving hospital capacity, an easing inflow of hospitalized patients, and a downward trend of new infections last week to below 0.5 per 100,000 people nationwide. Currently Japan has just over 1,700 active coronavirus cases with 471 hospitalized cases in Tokyo, bringing the capital's infection rate to below 0.34 per 100,000 people.
On the other hand, Hokkaido and Kanagawa prefectures exceeded the standard criteria with 0.62 and 0.74 infections per 100,000 people. But after cluster tracing and a stabilization of medical facilities it was decided these areas — initially deemed high risk by the government — should be released from the state of emergency. Some critics argue the move was rushed over concerns of permanent damage to the economy and coronavirus fatigue.
A day after Tokyo residents were given the okay to socialize and return to the office, there wasn't an immediate return to everyday life. Abe emphasized that even with the declaration lifted, the risk of infection cannot be reduced to zero, and he called for a new way of life in the coronavirus age. Abe stated it was impossible to keep extending a state of emergency, arguing the public could not psychologically wait anymore. But inversely, coexisting with coronavirus amid the fear of a second wave of infections in a high-density hotbed such as Tokyo also triggers palpable anxiety.
Tokyo Governor Yuriko Koike called on residents to maintain vigilance against a second wave and requested business to continue to cooperate with health measures to prevent the spread of coronavirus. While restaurants, gyms, and professional sport and entertainment events are allowed to resume, at this stage it's too early to hope business will return to normal with restrictions on entry and admission in place. Economic Revitalization Minister Yasutoshi Nishimura said a transition period is needed and asked the public to refrain from travelling between prefectures until the end of May.
Japan has fared better than most G-7 countries, having managed to avoid an initially feared runaway outbreak. Unlike the lockdown seen in many other Western countries, Japan's national emergency relied on voluntary cooperation as well as social pressure to maintain a 70 to 80 percent reduction in face-to-face contact. The head of the World Health Organization praised Japan's success in maintaining a low death toll and bringing daily infections down from a peak of 400 to a daily count of approximately 40 cases. At Monday's press conference Abe said he was proud to be able to bring the outbreak to an end in just one and a half months, highlighting the "power of Japan's model."
While the elements of the Taiwanese, Korean, and German responses have been widely analyzed by experts, it is difficult for other countries to emulate Japan's unique example. Behind Japan's "success" were voluntary countermeasures made up of "requests" for "self restraint," as well as a lack of widespread data collection from PCR tests. This makes it difficult to analyze and isolate the "winning factor" behind the relatively low infection rate and death toll in the first wave, which may hinder how best to tackle a possible second wave outbreak.
In Japan the government appeared to have pushed for curbing the flow of people to urban areas by discouraging the use of major train and bus terminals. Although social distancing measures targeted a 70 to 80 percent cut in social interactions, there is no method to quantify just how much social contact was reduced and how effective that was in curbing the virus.