Amid COVID–19, India's Modi and Australia's Morrison Plan Virtual Prime Ministerial Summit
The Indian and Australian leaders are expected to "meet" virtually soon. There's no shortage of important topics to cover, especially related to China.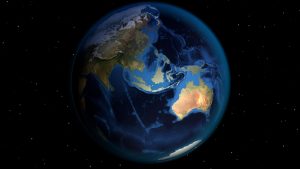 In a first, Indian Prime Minister Narendra Modi is planning to host a virtual bilateral "summit" meeting with Australian Prime Minister Scott Morrison. While the date for the meeting has not been announced, an Indian news report said that it will be soon. The Australian prime minister was initially scheduled to travel to India in January, but that had to be postponed due to the bushfires in Australia. The two leaders had been looking toward scheduling an in-person meeting in May, but that does not appear feasible under the current circumstances as much of the region is reeling under the stress of containing the COVID-19 pandemic. Nevertheless, there is excitement on both sides about the prospects of their meeting and New Delhi and Canberra are likely to conclude the much-awaited Mutual Logistics Sharing Pact (as well as other agreements covering science and technology and public administration).  
While recent Indo-Pacific developments, including China's muscle flexing in the South China Sea, may likely be on the agenda, it will be interesting to see how India positions itself on such issues. 
Australia is going through one of the worst phases in its contemporary relations with China. In an opinion piece in The Conversation, Tony Walker from La Trobe University wrote that Australia-China relations are "fractured," calling it "the worst moment in Sino-Australian relations since Gough Whitlam normalised ties on his election in December 1972." Australia's call for an independent investigation into the origins of the pandemic has not been well-received by China, to put it mildly. China, in response, unleashed its "wolf warrior" diplomats to lambast the Australian political leadership by threatening economic penalties. In a direct threat, China's ambassador to Australia, Cheng Jingye, warned that Canberra asking for an independent probe "could spark a Chinese consumer boycott of students and tourists visiting Australia, as well as sales of popular agricultural exports like beef and wine." 
Chinese Foreign Ministry spokesman Geng Shuang also commented:
at such a critical juncture [pandemic], it is highly irresponsible to resort to politically motivated suspicion and accusation. We advise the Australian side to put aside ideological bias and political games, focus on the welfare of the Australian people and global public health security, follow the international community's collective will for cooperation, and contribute to the global cooperation in fighting the virus, instead of doing things to the contrary.
But Australia is not the only target of China's economic coercion and trade threats, which have angered many countries. In fact, the Morrison government has found significant support for its call for an independent inquiry into the pandemic's origins.  
On the South China Sea as well, tension has been picking up and Australia is involved.  The Chinese Haiyang Dizhi 8 survey ship was operating in the Malaysian Exclusive Economic Zone (EEZ), around 325 kms away from the Malaysian coast starting around April 20. Following this, in a show of support, Australian ships joined three U.S. warships operating close to where the Chinese vessel was suspected to be undertaking oil exploration operations. The Australian Department of Defense in a statement said, "During the passage exercises, the ships honed interoperability between Australian and U.S. navies, including replenishment-at-sea, aviation operations, maritime manoeuvres and communications drills." 
China's survey ships were operating close to where Malaysia's Petronas state oil company was already engaged in exploratory drilling. Harassment by China is not new. Even the recent events are a culmination of developments that have been going on since December, according to Asia Maritime Transparency International. Even amid the current stand-off, China claimed that Haiyang Dizhi 8 was only conducting its normal activities. Meanwhile, Malaysian Foreign Minister Hishammuddin Hussein has come out with grim warnings that while "international law guarantees the freedom of navigation, the presence of warships and vessels in the South China Sea has the potential to increase tensions that in turn may result in miscalculations which may affect peace, security and stability in the region."  
India has not responded to either China's trespassing into the Malaysian EEZ or the Chinese sinking of a Vietnamese fishing vessel last month. Both incidents have increased concerns about China's behavior in the region.  
The Modi-Morrison meeting agenda is not clear but the Indian government will likely be under some pressure to address at least some of these difficult issues. India will be expected to take a stand especially as it moves to take over as the Chairman of the WHO Executive Board. Australia will seek greater support from India to push for a clearer understanding of the role of the WHO in the early stages of the pandemic. India should take this opportunity to build a larger coalition of like-minded states such as the Quad-Plus grouping including New Zealand, South Korea and Vietnam to develop a coordinated actionable agenda to bring about better reforms and accountability within the WHO. More importantly, at a bilateral level, the Morrison government will expect a strong show of support for Australia in the face of China's bullying behavior. 
The Modi-Morrison summit could also possibly cover the recent developments in the South China Sea. China's continuing harassment of small and big neighbors alike, including Vietnam, the Philippines, Indonesia and Malaysia is reaching a peak and could call for concerted action among the key southeast Asian players. As a key Indo-Pacific and Quad player, India could be expected to take a clear stand and gradually ready itself to play a more active operational role. The U.S.-Australian joint patrols were impressive and important for the southeast Asian countries which were at the receiving end of China's harassment. As the Quad enhances its role, India may be asked to take part in activities like joint and coordinated patrols with others such as Australia.