China Calls Charges of Pandemic Opportunism in South China Sea 'Sheer Nonsense'
Have China's ways in the South China Sea changed at all?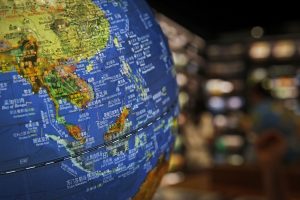 Recently, China's Ministry of Foreign Affairs pushed back on the notion that Beijing was actively exploiting the predicament of Southeast Asian claimant states in the South China Sea. Calling charges of opportunism "sheer nonsense," Chinese Foreign Minister and State Councilor Wang Yi, in remarks last Sunday, sought to highlight China's cooperation with states in the region.
As is tradition, Wang pointed to the United States as the source of all ills in the South China Sea, charging Washington with militarizing the region, where China and five other states — the Philippines, Vietnam, Malaysia, Brunei, and Taiwan — have overlapping territorial claims. Beijing has held up U.S. freedom of navigation operations and other mundane military activities in the region as destabilizing.
"Their ill-intentioned and despicable moves are meant to sow discord between China and [Southeast Asian countries] and undermine the hard-won stability in the region," Wang said last week.
In recent years, Beijing has pressed its claim to the disputed waters by building artificial islands in the Spratly Islands and bolstering its facilities in the area. Additionally, Beijing's "maritime militia" has been active in denying other claimants full access to the marine resources in the region.
In recent months, China has found itself in standoffs with both Vietnam and Malaysia in the South China Sea. Hanoi has protested Chinese energy exploration activities in its claimed waters. Meanwhile, the West Capella, an oil drilling vessel with Malaysia's state-owned Petronas, saw its operations disrupted by Chinese vessels — an apparent attempt at coercion. (See Euan Graham's breakdown for Foreign Policy.)
The notion that Beijing might be practicing opportunism in the South China Sea may be alluring to critics of Chinese foreign policy, but the sad reality is that — even through the pandemic — things in these waters are mostly adhering to the old normal. Perhaps recent activities might have been an attempt to test the resolve of the U.S. Navy to respond, particularly after USS Theodore Roosevelt, a U.S. carrier, was out of commission amid a major COVID-19 outbreak on board. Recent coercive activities haven't been particularly different in their nature.
Over at War on the Rocks, Abraham Denmark, Charles Edel, and Siddharth Mohandas offer some helpful guidelines on what behaviors might provide greater evidence of the pandemic directly shifting Beijing's calculus toward greater risk-acceptance and coercive diplomacy. For the moment, the South China Sea remains as uneasy as it ever was. Beijing's assertiveness in these disputed waters will continue.