Chinese Navy Set to Retire Last Type 051 Destroyer
Zhuhai, the last serving Type 051G guided-missile destroyer in the PLAN, is set for retirement.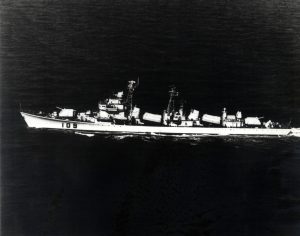 The Chinese People's Liberation Army Navy's last serving Type 051 guided-missile destroyer is slated for retirement, the Chinese Ministry of Defense noted this week. According to a PLA Daily article, the last vessel, the Zhuhai (hull number 166), "is about to retire and scheduled to settle down in Zhuhai, Guangdong Province of China."
"At present, the designated receiving unit is arranging for its handover and applying for a provincial themed patriotism education base for it," the article noted.
Zhuhai was commissioned in the PLAN's South Sea Fleet in 1992 and conducted a range of missions, including port calls around Southeast Asia and as far away as South America and the United States.
According to the Chinese Ministry of Defense, the vessel served as the "diplomatic flagship" of the PLAN. "In August 1995, destroyer Zhuhai visited Indonesia to participate in the Indonesian International Fleet Review (IFR); from February 20 to May 28, 1997, a fleet composed of guided-missile destroyers Zhuhai (Hull 116) and Harbin (Hull 112) visited the United States, Chile, Peru, Mexico and other South American countries, and then came to Australia, completing the first round-the-world voyage since the establishment of the PLA Navy," PLA Daily noted.
Zhuhai is a Type 051G2 guided-missile destroyer. According to official specification, the vessel has a length of 128.6 meters and a width of 12.8 meters. The vessel's draft is 4.6 meters with a total standard displacement of 3,250 tons, and a full-load displacement of 3,670 tons.
The Type 051 is known as the Luda-class destroyer to NATO and the class of vessels first entered service in the early 1970s. The Type 051 underwent several rounds of modernization through its service life, which included improvements to the armaments that are compatible with the vessels. The earliest Type 051 designs were derived from Soviet ship designs.
The Zhuhai is one of just two Type 051G vessels, the other being Zhanjiang. These were the last improved variants of the Type 051 and featured wider radar and missile compatibilities, including with the YJ-8 subsonic anti-ship cruise missile. Zhuhai also included an HQ-7 surface-to-air missile system.
The Zhanjiang (hull number 165), the other Type 051G, was reported to have received sensor upgrades, but not the specific weapon system upgrades that Zhuhai received. The vessel underwent a refit in the early 2000s.
The Type 051 was succeeded by the Type 052 Luhu-class, Type 052B Guangzhou-class, and Type 051C Luzhou-class guided missile destroyers. The PLAN continues to rapidly expand its fleet with modernized warships designed for expeditionary, or "blue water," operations.