Japan Approves a Partial Cancellation of National Emergency Ahead of Expiration Date
The government shifts its coronavirus response toward cluster tracing and long-term lifestyle changes.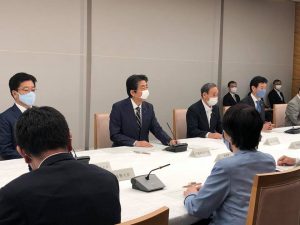 On Thursday, Japan's COVID-19 national emergency was partially lifted in 39 out of the country's 47 prefectures, with restrictions continuing in eight high risk areas such as Tokyo, Osaka, Kyoto, and Hokkaido, where cases remain widespread.
An expert panel determined a national emergency was no longer needed, with indicators showing a slowdown of nationwide cases to pre-March levels, an overall easing of hospital overcrowding, and the total number of new infections last week totaling less than 0.5 per 100,000 people. The panel said the eight remaining prefectures will focus on prevention with interstate travel restrictions, nonessential outings, and social distancing still in place.
At a press conference, Prime Minister Shinzo Abe said it was possible to suppress COVID-19 clusters in 39 prefectures to a level that prevents widespread infection. The eight prefectures still under a state of emergency will undergo a review on May 21 in which a state of emergency could be cancelled prior to the May 31 expiration date. On the other hand, a second national emergency could be declared if the rate of infections increases dramatically.
Minister for Economic Revitalization Yasutoshi Nishimura said the end goal is for the remaining eight prefectures to reopen by the May 31 deadline, adding that small-scale epidemics are inevitable until a vaccine is available. He stressed the need to trace infections while maintaining privacy and learning from the recent outbreak of clusters seen in Germany and South Korea after reopening the economy.
Abe stressed that even after the emergency is lifted the virus will still linger, which will require the public not to relax social distancing efforts as businesses reopen.
In Japan, businesses will reopen under a coronavirus era "new normal." Abe called on the public to remain vigilant in every element of everyday life. The exit strategy for resuming socioeconomic activities is a delicate balance between saving lives and saving people's livelihoods and the economy. More than 80 industries such as restaurants, hotels, and public transport will prepare to return to full-scale operations by devising coronavirus prevention guidelines.
On Wednesday, Ehime prefecture on the southern island of Shikoku reported a new coronavirus cluster in a hospital, where 20 medical staff and inpatients tested positive. A state of emergency was lifted on the condition that the route of infection be investigated.
On May 4, Abe had announced a month-long extension of the national emergency but hinted at the possibility that it could be lifted earlier if daily coronavirus infections showed a downward trend. Under a state of emergency, governors of each prefecture have the authority to call for social distancing, issue stay-at-home requests, close schools, and shut down businesses. But there are no set penalties for noncompliance, making cooperation voluntary.
Despite having the oldest population in the world, Japan has managed to avoid the hefty death toll seen in other aging G-7 countries such as Italy. Since Japan's first reported coronavirus case in mid-January, the central government's handling of the coronavirus outbreak in Japan has been confusing and halfhearted at best. But for a country that did not implement a full-scale lockdown as seen in other Western countries, the COVID-19 count in Japan — with a population of 126 million — stands at 16,000 official cases and 680 deaths. Experts have called Japan's unique pandemic success "mysterious" and "unexplained" considering the initial reluctance to perform aggressive testing on a wide section of society.
On Wednesday, Osaka's governor unveiled the prefecture's own criteria for lifting the state of emergency, with a gradual easing of business restrictions starting from May 16. Local government requests to temporarily close theaters, cinemas, museums, libraries, and commercial facilities will be lifted. Slot machine venues known as "pachinko" with a total floor area of under 1,000 square meters will also be allowed to operate. Restaurants and drinking establishments have also been granted a two-hour curfew extension; they can now serve alcohol until 9 p.m. and close at 10 p.m. compared to the respective 7 p.m. and 8 p.m. cut-offs under the state of emergency. Each business type will be presented with a manual detailing how to make restrict entry to people showing symptoms and methods for cleaning and disinfection.
Meanwhile, Japan's coronavirus testing guidelines have now scrapped the rigid criteria of having a fever above 37.5 degrees Celsius. The government will also launch antibody tests next month, inviting 10,000 randomly selected participants in Tokyo followed by Osaka to volunteer a blood sample. A coronavirus contact tracing app is also expected to be released at the end of the month.