Japan's Jobless Rate Spikes as Companies Clamor for Assistance
Confusion, controversy, and red tape have critics warning that government assistance will arrive too late to keep businesses from going under.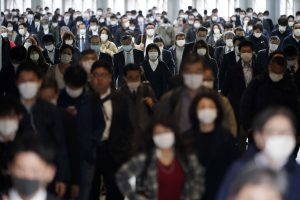 Japan's unemployment statistics have begun to show the impact of the coronavirus outbreak as businesses struggling with temporary closures or poor sales are unable to keep workers on payroll.
The seasonally adjusted jobless rate in March edged up 2.5 percent, making it the highest figure in one year. Japan enjoys a relatively low unemployment rate, but the latest data show the job availability ratio deteriorating to its lowest level in three years. The Cabinet Office downgraded its economic outlook for the second straight month, describing the Japanese economy in April as a "rapidly worsening situation."
While many small and medium-sized companies are waiting on government employment subsidies to keep employees in work, the complexity of procedures and the slow speed of handouts are hurting companies that are already struggling to stay afloat. The Ministry of Health, Labor, and Welfare raised the employment subsidy rate for employees of small and medium businesses in response to companies halting operations without providing paid leave. Small and medium businesses can now receive 100 percent of wages, with an upper daily cap of 8,330 yen ($78). Meanwhile, employees of large companies are also eligible for 75 percent of their full-time wage.
But companies have complained the current application procedures make the subsidy "almost unusable," meaning companies will go out of business before receiving money from the government. The success rate for the employment wage subsidy program as of this writing was 0.1 percent, with a mere 282 applications accepted out of 2,541 submissions. The volume of documentation to prove working hours often means applications are rejected and sent back for revision, dragging out the process to two months in some cases.
In normal circumstances, the Labor Standards Act stipulates that when businesses temporarily close they are obliged to pay 60 percent of wages during leave. But once a national emergency is declared, there are mixed interpretations over whether businesses requested to close are exempt from providing paid leave based on the "force majeure" exemption, in which extraordinary circumstances are beyond one's control. The 2011 Tohoku Earthquake and Tsunami Disaster is one example where there was no obligation for paid leave, but the Ministry of Health, Labor, and Welfare's position on the current COVID-19 circumstances is unclear.
Also adding to the confusion is that, unlike Europe's strict lockdowns, Japan's emergency declaration has no legal force and businesses don't have an obligation to respond to government requests. A national emergency gives the prefectural governors authority to call on people to stay at home and request the temporary closure of movie theaters, sports venues, restaurants, and bars but there are no penalties for noncompliance. The Tokyo Metropolitan Government has adopted a strategy based around peer pressure by publicly listing businesses that should close and shaming ones that don't.
The government's "voluntary" stay-at-home requests have forced restaurants and retail stores to temporarily close or reduce hours due to the sharp fall in customers. But some lawyers argue the decision to close is "voluntary," in that companies can avoid temporarily closing by reorganizing business operations around online sales and teleworking. Such an interpretation would most likely entitle staff to paid leave from their employers.
Since the government's emergency declaration on April 7 the issue of whether businesses asked to close are responsible for paying compensation to their employees has evolved into a major debate. Japan's month-long national emergency is set to expire on May 7. Government appeals for a 70 to 80 percent reduction in social interactions haven't brought about the hoped-for fall in coronavirus infections and the public could be asked to stay home even longer.
On Thursday the government enacted an additional 25.60 trillion yen ($240 billion) budget to fund the coronavirus economic relief package, which features a cash hand out program called the "300,000 yen plan" with income restrictions and a uniform cash handout of 100,000 yen to all residents. The relief package aims to helps companies with cash flow problems as well as safeguarding job security and allocating funds for personal protective supplies and vaccine research.
Prime Minister Shinzo Abe called the current economic situation "the biggest crisis since World War II" and stressed the economic stimulus would not bring results right away.