On Hong Kong, South Korea Is Caught Between China and US
The Hong Kong issue is adding urgency to South Korea's need for a new balancing strategy between the U.S. and China.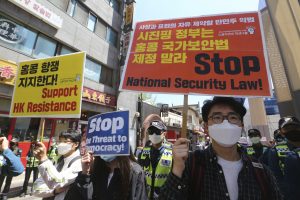 South Korea's concerns are deepening as the United States and China each seek support from other countries over their positions. The conflict between two nations is escalating over Beijing's decision to introduce the controversial decision giving its legislature power to pass a Hong Kong national security law.
Chinese Ambassador to South Korea Xing Haiming said in a recent interview with China's state-run CCTV that the Chinese side would actively communicate with Seoul over the Hong Kong law and he believed that it would gain "understanding and support" from the Korean side. It is unprecedented to see China asking for support on the Hong Kong issue, since China's principle has been not to allow outside intervention in Hong Kong.
According to diplomatic sources, meanwhile, the United States also recently invited a group of Washington-based diplomats from its key allies to explain the U.S. position regarding the national security law. South Korean diplomats were among those invited.
This is a difficult situation for South Korea, which has maintained "strategic ambiguity" between the countries.
First of all, there is no reason for Seoul to endorse China on the issue of Hong Kong. Doing so would run counter to principles of democracy and human rights, which the South Korean government supports and advocates for — not to mention the fact that the United States is clear in its opposition.
But at the same time, there is also no reason for the South to be outspoken about its opposition to the Hong Kong national security law, which is clearly China's internal affairs, at a time when Seoul needs to cooperate with Beijing over economic and North Korean issues.
Therefore, it is widely expected that the government would not take any steps that could indicate Seoul endorses either the U.S. or Chinese position over the issue of the Hong Kong. The latest remarks made by South Korean Foreign Ministry spokesman Kim In-cheol are a good example.
"Seoul continues to pay attention to the situation in Hong Kong and the security law," he said during the latest press briefing. "Hong Kong is an important region with close exchanges with South Korea, and the country believes it is important for Hong Kong's prosperity and development to continue under the principle of one country, two systems."
These are nice words but do not tell us anything concrete about South Korea's position on the issue.
South Korea's strategy to remain ambiguous might have worked so far, but the question now is that how long either the United States or China will allow this.
Even if Seoul "manages" to pass by the Hong Kong issue without hurting its relations with either of the two countries, more issues that could force Seoul's decision are to come — such as whether to join the U.S.-led Economic Prosperity Network (EPN).
It is inevitable that Seoul must come up with new strategies to for balancing its relationships with the two most powerful nations in the world. That moment might come sooner than it hopes.
Some suggest that it would be wiser for South Korea to approach individual issues with concrete principles rather than taking sides by adjusting its position.
Citing the issue of joining the EPN, Park Won-gon, a professor at Handong University, said South Korea should be able to say isolating China goes against the government's free-market economy principles if it decided not to join.
Kim Joon-hyung, chairman of the Korean National Diplomatic Academy, shares a similar view.
He said it is essential to keep stressing and informing other countries about South Korea's principles on different issues, such as its position on protecting and promoting the value of democracy given what the country went through historically.
Kim added that it could also be a good strategy for the South to seek support and cooperate with other nations that are in a similar position between the United States and China.
"I think it is necessary to seek international cooperation with EU countries and others," he noted.