Taiwan to Loosen COVID Social Distancing Restrictions, Announces Global Assistance Measures
The country, which has confirmed just 443 cases of COVID-19, is set to ease social distancing seating restrictions in public places.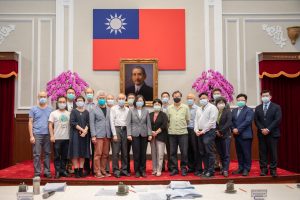 Taiwan has contained the coronavirus within its borders, confirming just 443 total cases since COVID-19, the disease caused by the new virus, was first discovered last December. Taiwan is now set to ease social distancing restrictions, while ramping up its efforts to provide assistance to countries around the world.
On June 7, restrictions will be lifted limiting the number of people allowed at public gatherings, including cultural and leisure events, while social distancing seating arrangements on trains, cinemas, concert halls, and baseball stadiums will also be removed.
Attendees and travelers will still be asked to wear masks, although they will be allowed to eat food in most instances.
Plastic table dividers at restaurants will also no longer be required if there is enough space between tables, although this provision has, in practice, been followed haphazardly.
Taiwan this week also allowed masks to be purchased on the open market. The sale of masks had been rationed since January, when the government tasked military to produce surgical masks.
Taiwan's daily mask production has exceeded 20 million, allowing the government to donate millions of masks to countries around the world. Citizens are also allowed to send masks to people abroad.
Face masks can now be purchased at convenience, health, and beauty care stores. Previously, masks could only be purchased in limited quantities at pharmacies with a valid health insurance card.
Last week, Taiwan's foreign ministry said it would help local companies export micro surgical face mask factories, which would have 20 production lines and produce 2 million masks each day.
The factories would be able to produce N95 or R95 face masks if necessary, foreign ministry official Y.C. Tsai said at a press conference.
Tsai said the ministry would offer a package to international buyers by bringing together Taiwanese suppliers of raw materials, machinery, and technology.
Taiwan on Monday also offered to share globally the technology used in mobile apps to help combat COVID-19.
Central Epidemic Command Center information systems chief Chien Hung-wei said Monday Taiwan has developed a health management app, which uses AI and GPS technology to help users minimize their time spent in public, test their temperature twice each day, and practice self-hygiene.
A social distancing app, also developed in April, gives users an alert on their mobile phones if they are too close to each other.
Chien said the apps were not made available for download in Taiwan due to the country's containment of COVID-19.
"Many foreign media have been inquiring about the social distancing app and we welcome foreign governments to use it," Chien said.
Despite its proximity to China, Taiwan never had to institute lockdown or quarantine measures, although it did close its borders to nonresidents in March. Taiwan currently has no plans to reopen its borders.
Within the country, life has continued normally. A large crowd gathered on Thursday evening in Taipei for a commemoration of the Tiananmen Square massacre in Beijing. Hong Kong's annual vigil was canceled for the first time since 1989, although residents gathered in Victoria Park anyway.
On Saturday, voters in Kaohsiung will head to the polls to decide whether to recall the city's mayor, Han Kuo-yu, who was also the Kuomintang's failed presidential candidate in Taiwan's January 2020 election.
Chen Shih-chung, Taiwan's health minister and head of the CECC, said Thursday people voting in Kaohsiung should wear masks and sanitize their hands when they go to polling stations.
Chen said Wednesday that Taiwanese firms are working on the development of four potential coronavirus vaccines.
"Local communities in Taiwan are relatively safe, but we still need to rely on the development of vaccines and drugs," he said, cautioning that people must continue practicing the "new disease prevention lifestyle."
Although Taiwan has won plaudits for its efforts to contribute to the global coronavirus response, it dropped last month's bid to participate in the World Health Assembly as an observer after it became apparent a vote on its participation would not pass.