Are There Really No COVID-19 Cases in Tajikistan?
Dushanbe's denials are simply unbelievable; its belated responses to the pandemic "cruel and inept at the same time."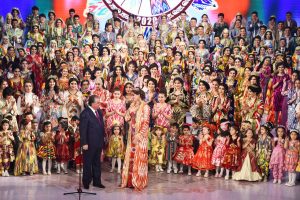 Shabnam Khudoydodova began to worry when news reports emerged out of Tajikistan that an employee in the prosecutor's office, Jaloliddin Pirov, had died — the state said of pneumonia and H1N1, also known as swine flu. Those who buried him wore protective clothing.
As cases of the novel coronavirus and the disease it causes — COVID-19 — around the world passed the 3 million mark, the small Central Asian state of Tajikistan maintains that it has not identified a single case despite conducting a 4,100 tests, according to government statements.
Over the years, Tajikistan has maneuvered itself into ever lower rungs on most international rankings — freedom, press, corruption; governance, political and economic transformation. Khudoydodova, an independent Tajik human rights activist, is one of many activists who have fled from Tajikistan and also Russia in recent years to the relative safety of Europe.

After hearing about the mysterious death of Pirov — and further rumors and reports of pneumonia and swine flu deaths in Tajikistan — Khudoydodova contacted her relatives still in the country, concerned. She soon learned of a cousin who came down with a high fever, "nausea, vomiting, dizziness, headache, cutting pain in the lungs and pain in the back… weakness, loss of appetite."
An aunt told Khudoydodova that the cousin was tested at a hospital and quietly given the damning results: "The doctor made a diagnosis of COVID-19 but implored her not to tell anyone that she has it, fearing that both he and she could be punished," Khudoydodova told The Diplomat. 
Tajikistan has been ruled by President Emomali Rahmon for 26 years. Rahmon's extended family and network of close associates holds the keys to nearly every critical businesses across the country, from airlines to banks. In the last five years, Rahmon swept the political field clean: The country's only significant opposition party, the Islamic Renaissance Party (IRPT) was labeled an extremist organization in September 2015; the leader of another opposition political movement Umarali Quvvatov of Group 24, was assassinated in Istanbul in March 2015.
In April, Rahmon's 32-year-old son Rustam Emomali was elected chair of the Tajik parliament's upper chamber — officially placing him second-in-line to the presidency. Tajikistan's next presidential election is set for this fall. The only question is whether it will be Rahmon or his son who will notch a landslide victory.
No regional expert that The Diplomat has spoken with believes Dushanbe's denials regarding COVID-19 cases in the country.
When asked whether it was possible that Tajikistan had no COVID-19 cases, noted Tajikistan expert Edward Lemon, the DMGS-Kennan Institute Fellow at the Daniel Morgan Graduate School in Washington, D.C, said, "In a word, no. It is impossible that Tajikistan has no cases."
A source currently living in Tajikistan agreed: "[I] can't believe it."
Yet officials from the World Health Organization office in Tajikistan have been quoted by the Tajik government and local media in April complimenting Dushanbe's efforts.
As recently as April 21, as Eurasianet noted in a report last week, head of the WHO permanent mission in Tajikistan Galina Perfiliyeva was quoted on the Tajik Health Ministry website praising Tajik capabilities. 
But in an April 22 interview with Kommersant, a Russian daily newspaper, Perfiliyeva's tone appeared to show signs of change. She said, "It's impossible to conclusively say that there is no coronavirus infection in Tajikistan."
"COVID-19 has asymptomatic forms, too," she added. "In Tajikistan, like in the vast majority of countries, it's not possible to conduct laboratory tests of the entire population to identify them."
According to RFE/RL's reporting, Tajikistan only has one laboratory capable of processing coronavirus tests.
A source in-country told The Diplomat that the WHO's changing attitude has triggered "quite some discussion on groups on Facebook, for instance."
"The organization was regarded as authority but now all of a sudden the country director has stated that it can't be said that there is NO COVID. We wait for the WHO mission to arrive."
On April 23, the director of the WHO Regional Office for Europe, Hans Kluge, tweeted that a technical team would travel to Central Asia, naming specifically Turkmenistan and Tajikistan, "in the coming days."
In a statement provided to The Diplomat, a spokesperson for WHO/Europe confirmed that a mission team is ready to travel to Central Asia, but "due to the difficulties with travel and logistics during a pandemic… we are waiting for a suitable UN flight to Dushanbe."
"The main objective of the mission will be to support the Tajik authorities in preparing for and getting ready to manage COVID-19's emergence and spread," the spokesperson stated.
"The mission team aims to meet both high-level officials and public health experts in the relevant areas to work together to assess the risks and understand the situation on the ground, and to develop the response mechanisms that will be required to tackle any COVID-19 outbreak, if needed."
While Tajikistan maintains it has yet to have a COVID-19 patient, neighboring Kyrgyzstan and Uzbekistan registered their first confirmed cases in mid-March. Along with Kazakhstan, which also announced its first coronavirus case in mid-March, all three countries swiftly moved to close borders and enforce lockdowns, curfews, and quarantines. Even before they'd marked their first official cases, much of Central Asia had taken precautionary measures. Kyrgyzstan extended its annual Chinese New Year border closure; Kazakhstan cancelled early March celebrations for International Women's Day and then Nowruz celebrations.
As of April 28, there have been 5,629 COVID-19 cases reported in the three Central Asian states of Kazakhstan (2,982), Kyrgyzstan (708), and Uzbekistan (1,939). 
Tajikistan fumbled awkwardly at first with responding to the growing global public health crisis in February and March and then settled into the default position of top-level denial, with some aimless precautionary measures accompanied by crackdowns on the media and coverups.
In early March authorities dramatically instructed airlines to ban passengers from 35 states at the time known to have had at least one COVID-19 case; the next day the order was rescinded. On March 10, Tajikistan prohibited foreigners from entering the country and closed airports on March 20.
"By March 30th they had closed their borders to everything but cargo. But this was too late. The virus was almost certainly already in the country," Lemon argues.
Tajikistan, like other Central Asian states, aimed early efforts at then-known hotspots: China and South Korea, then later Italy and Iran. Beyond the impact of corruption — evidenced in rumors that Chinese businessmen returning from New Year celebrations back home bribed their way out of quarantine — there were additional unaddressed routes for the virus to enter the country.
As the early cases in Kyrgyzstan, for example, demonstrate, the virus had already spread around the world when eyes were still on East Asia. Kyrgyzstan's first documented cases were found among men who had returned from umrah, an Islamic pilgrimage to Mecca in Saudi Arabia. Kazakhstan's and Uzbekistan's first cases were found among citizens returning from Europe. 
As the number of countries that have not reported any COVID-19 cases dwindles to a handful of small Pacific Island states and two hermit kingdoms — Turkmenistan and North Korea — Tajikistan's denials ring hollow and its attempts at urging preventative measures seem belated and bumbling.
State-controlled TV and radio have repeated messages about being careful, telling the elderly to stay home and urging handwashing. But when President Rahmon delivered a speech recently urging people to stay healthy and not to fast during Ramadan, he also stressed that there was no coronavirus in Tajikistan. 
On April 25, it was announced that all schools in Dushanbe (but not universities, Asia Plus reported) would temporarily close from April 27 to May 10, "in order to protect the health and safety of the population." Also on April 25, local media reported that Dushanbe had not only banned the export of staple food products like meat, eggs, and wheat, but had imposed a ban on large public gatherings, though bazaars and markets remain open. Disinfecting teams were reportedly sweeping through Dushanbe.
Steve Swerdlow, a longtime human rights activist with a focus on Central Asia, commented that "The initial phase of denialism has given way to widespread panic, and harsh measures being taken by the government."
Tajik authorities are acting against COVID-19 on one hand, in particular reaching that hand out for assistance. Dushanbe has pulled in humanitarian aid and financial assistance from Kazakhstan, Uzbekistan, the United States, the World Bank, and the IMF. Various government agencies have reportedly approached other international organizations for assistance. 
On the other hand, the state maintains the threat has not arrived.
This, in turn, generates confusion with deadly repercussions. A source inside the country spoke of some who seemed to take the threat seriously, and others who joke about it — "We drink 50 grams of vodka a day. Keeps us healthy" — or argue that Tajikistan's approaching hot summer would prevent the virus' spread.
Lemon summarized what he's heard from people inside Tajikistan thusly: "Some people seem to believe in the state propaganda, that the government has taken the right measures and Tajikistan is a virus-free island. But I think many people are scared."
Rumors abound, abetted by the Tajik government's paranoia, the country's weak media atmosphere, and further government moves to quash critical reporting by both medical staff and journalists.
In mid-April, the Tajik Supreme Court blocked two news websites — Akhbor.com and nahzat.ru — for serving as a platform "for terrorist and extremist organizations such as the Islamic Renaissance Party of Tajikistan, the National Alliance of Tajikistan and others." Akhbor has carried numerous reports countering Dushanbe's coronavirus-free narrative in recent weeks, including highlighting the president's arguably unwise appearances at large Nowruz gatherings in late March.
Swerdlow called such coverage "the straw that broke the camel's back."
Reporters Without Borders criticized Tajikistan in early April for its lack of transparency on COVID-19 and condemned its treatment of journalists. In March, RSF noted, two local journalists were detained photographing crowds at markets queuing to buy food; the journalists were interrogated by police, who accused them of "sowing discord."
Among those most at risk are political prisoners subject to poor conditions in Tajikistan's prisons — which have experienced a spate of riots and mysterious incidents resulting in mass deaths in recent years — in addition to being the targets of the government's abject animosity.
At least two high-profile political prisoners — recently jailed journalist Daler Sharipov and IRPT member Rahmatullo Rajab, jailed in 2015 and sentenced to 28 years in 2016 — have reportedly become ill with symptoms of respiratory illness.
There are also disturbing reports about the conditions and threats faced by the country's medical workers — on the frontlines of a crisis the government has yet to fully acknowledge. Some have reportedly been fired for complaining about a lack of access to personal proactive equipment (PPE); others have been allegedly forced to buy their own protective gear. 
One hospital in Dushanbe reportedly had over 300 patients with suspected "pneumonia," more than 130 of which were medical workers.
As happened in China, Khudoydodova hopes for a brave doctor to break the story open in Tajikistan and Turkmenistan — which also denies having any cases of COVID-19.
"Earlier in China, authorities hid it as well for a time," Khudoydodova told The Diplomat. "But brave medical professionals forced the government to come to terms with it. I hope that brave doctors will appear in Tajikistan and Turkmenistan and will speak openly about the reality of COVID-19 in our societies."
"I do not understand what the authorities are ashamed of. Why are they afraid to reveal the existence of this worldwide pandemic inside the country?" Khudoydodova asked.
Swerdlow categorized the government's responses as "cruel and inept at the same time."
What explains the Tajik government's course of action, both accruing assistance but denying the threat that necessitates that assistance?
Lemon offered a range of potential explanations, including the government buying time to prepare — acquiring personal protective equipment (PPE) and preparing hospitals — or an effort at avoiding panic. In early March, there were reports of panic buying of flour and other food items. 
Lemon also commented that "there may be concern about how to enforce a statewide lockdown."
An in-country source told The Diplomat much the same, saying that for many Tajiks there's no possible way to stay home without the sort of massive government support Dushanbe frankly isn't financially capable of providing. The problems are myriad. For example, a lack of savings means that daily wages are a necessity for most Tajiks. Even in rural areas, while farm labor may continue through a potential lockdown — as it has in other countries — financial (and health) risks remain serious. 
Then there's the thousands upon thousands of Tajik citizens who usually migrant in the spring and summer north to Russia for work — sending remittances home to support their families.
According to World Bank data, Tajikistan is one of the top five most remittance-dependent countries. In 2019, the Bank estimated that remittances flowing back to Tajikistan were equivalent to 29.7 percent of the country's GDP.
"With so many people unable the migrate, perhaps there is concern about how sustainable a shutdown will be and that people would not sit at home with no income," Lemon said.
But lastly, "and perhaps most convincingly, the regime does not want to shut the economy down as this will reduce the income they receive from the various businesses members of the president's extended family control," Lemon argued.
A source in Tajikistan agreed that the economic considerations certainly play a role, in addition to matters of legitimacy.
"The governmental attitude toward the situation has everything to do with legitimacy and stability," the source suggested. "The government benefits from the enormous amounts of money currently organized by international organizations. While financed by donors, some people think support is government funded and consequently praise the government. It's not always known – or made known – it's coming from abroad. It strengthens the idea of the president as 'Leader of the Nation' who is taking care of his people… all will be welcome in light of elections in November."