Remember Liu Xiaobo by Supporting Rights Activists in China 
On the anniversary of the death of Chinese Nobel Peace laureate Liu Xiaobo, the fight for human rights in China continues.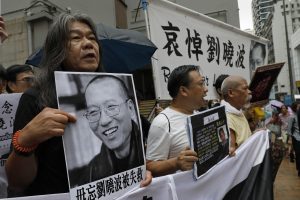 Three years ago, on July 13, 2017, Chinese Nobel Peace laureate Liu Xiaobo died from complications of liver cancer while guarded by state security officers. Had he lived — and had the Chinese authorities lived up to their obligations — he would have been released on June 21 after serving an 11-year sentence for "inciting subversion." 
Since Liu's death, the Chinese government has become even more repressive – a grim reality marked by the imposition of the draconian National Security Law on Hong Kong on July 1. 
If Liu were still alive, he would have been able to see close friends recently released from prison: Chen Wei and Liu Xianbin, signatories to Charter '08, a pro-democracy manifesto that Liu Xiaobo organized. Both were released this year after nine and 10 years, respectively, in prison. But Liu would not have been able to see Qin Yongmin and Huang Qi, activists detained when he was in prison and now serving 13- and 12-year sentences on baseless charges.
If Liu were alive, he would have learned about the detentions of young activists he had never heard of, such as Cai Wei and Chen Mei, both 27. They have been detained since April for archiving censored materials published on Chinese media outlets and social media platforms related to COVID-19. 
Human rights activists in China are now enduring their worst persecution since peaceful protesters took to Tiananmen Square and streets across the country in 1989. Yet despite the suffocating political environment, the fight for a democratic, rights-respecting China continues. 
In February, authorities detained an activist and lawyer, Xu Zhiyong, days after he published an essay criticizing the Chinese government's mishandling of the coronavirus outbreak and calling for President Xi Jinping to resign. On July 6, Beijing police detained a law professor, Xu Zhangrun, who had published scathing articles condemning the Chinese Communist Party's rule.
China's human rights activists, lawyers, and academics are not naïve about the possible consequences of their actions  — both Xu Zhiyong and Xu Zhangrun had repeatedly said they were prepared for prison. Rather – as they often told me – they felt compelled to act by their anger over injustices, their compassion for victims of abuses, and their solidarity with fellow activists and lawyers. Activists have also expressed a desire to honor the life and legacy of Liu Xiaobo – a friend, a mentor, and a towering figure in China's human rights movement.
If Liu were still alive, he might have been heartened to see the world finally waking up to the character of the Chinese Communist Party and the threats it poses to human rights globally. 
In just the past month, reacting to the arbitrary detentions of an estimated 1 million Turkic Muslims in Xinjiang, the U.S. government adopted the Uyghur Human Rights Policy Act sanctioning Chinese officials involved in rights violations in Xinjiang. In late June, 50 United Nations human rights experts banded together in an unprecedented joint call to examine the Chinese government's human rights record. 
In response to Beijing imposing a national security law on Hong Kong, the U.K. government is broadening visa rights for 3 million Hong Kong residents, and the Canadian government suspended its extradition treaty with Hong Kong. The U.S. Congress advanced a bill that would require sanctions on foreign banks complicit in Beijing's crackdown on the city. Even governments often reluctant to challenge China on human rights issues, like India and Japan, have expressed concern about Hong Kong. 
These actions are important, but governments need to keep supporting activists inside the country, the real agents of change. At this dark moment, light for activists in the country comes in the form of governments calling publicly for their release, and for repeal of the unjust laws used to detain them. Governments can uphold those activists' work by considering their ideas — not just the Chinese government's — in policy debates. Governments can provide resources to operate inside the country, and a safe haven if activists need to leave China.
In the defense statement for his trial, Liu Xiaobo said, "For there is no force that can put an end to the human quest for freedom, and China will in the end become a nation ruled by law, where human rights reign supreme." The international community should do all it can to make his wish true. 
Yaqiu Wang is a China researcher at Human Rights Watch.