US Air Force Grants Boeing $1.2 Billion Initial F-15EX Contract
The first F-15EX fighters are expected to complete production next year.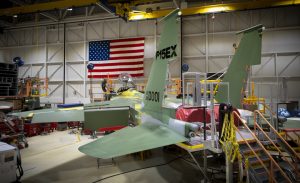 The U.S. Air Force announced on Monday that it was awarding a contract for the first lot of eight F-15EX multirole fighter aircraft to Boeing. The contract has a value of nearly $1.2 billion.
According to a U.S. Air Force statement, the contract will provide for "the design, development, integration, manufacturing, test, verification, certification, delivery, sustainment and modification of F-15EX aircraft, including spares, support equipment, training materials, technical data and technical support."
The F-15EX, a so-called four-and-a-half generation, or fourth generation plus, fighter, is meant to eventually allow for the phasing out of older U.S. Air Force F-15C/D fighter aircraft. Additionally, part of the reason the U.S. Department of Defense favored the project, where Boeing was the lead contractor, was to preserve "multiple providers in the tactical aircraft portfolio," according to an official quoted by Military.com last year.
Lockheed Martin, the other major U.S. manufacturer of tactical fighter aircraft, produces the F-16 and F-35 Panther. The F-35 is the primary fifth generation multi-role fighter. The F-22 Raptor, a fifth generation air superiority fighter, is also made by Lockheed Martin, but is no longer in active production.
"The F-15EX is the most affordable and immediate way to refresh the capacity and update the capabilities provided by our aging F-15C/D fleets," Gen. Mike Holmes, commander of Air Combat Command, said in a statement. "The F-15EX is ready to fight as soon as it comes off the line."
The F-15EX, a twin-seat fighter, will feature capabilities exclusive to the U.S. Air Force. F-15 variants are in service with export customers around the world. The F-15EX is expected to feature an expanded magazine, enabling a greater armament package. According to the U.S. Air Force, the F-15EX will also require minimal retraining for existing F-15 certified pilots.
Additionally, the F-15EX features new avionics and an upgraded electronic warfare suite. "The F-15EX's digital backbone, open mission systems, and generous payload capacity fit well with our vision for future net-enabled warfare," said Will Roper, the assistant secretary of the U.S. Air Force for Acquisition, Technology and Logistics, in a statement.
"Continually upgrading systems, and how they share data across the Joint Force, is critical for defeating advanced threats. F-15EX is designed to evolve from day one."
The first production units of the F-15EX are expected to be completed early in 2021 and will be based at Eglin Air Force Base, Florida, according to Defense News. Six additional F-15EX fighters will follow through the 2023 fiscal year.