Uzbekistan Announces Second COVID-19 Lockdown
Uzbekistan is following Kazakhstan back into a second COVID-19 lockdown.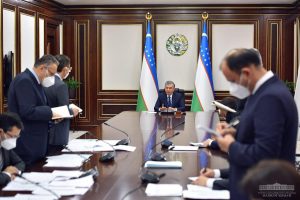 On July 8, the government of Uzbekistan announced a second nationwide lockdown would begin on July 10 and run through August 1. The decision comes three days after Kazakhstan began its own second lockdown regime amid mounting cases of COVID-19, the disease caused by the novel coronavirus. Both of Central Asia's largest states face similar tensions
Per official statistics, Uzbekistan has confirmed 10,982 cases of COVID-19 since marking its first case in mid-March. For comparison and contemplation: Neighboring Kazakhstan, a much larger country in territorial terms and much smaller in population terms, surpassed the 50,000 confirmed case mark in recent days. Kazakhstan has an estimated population of 18.7 million; Uzbekistan's population is around 34 million.
Uzbek officials have denied allegations of purposeful underreporting of cases.
Tashkent was relatively quick to lock the country off and down in March, closing its borders and rolling out restrictions. As Umida Hashimova outlined at the time, despite the reform program under President Shavkat Mirziyoyev, it was not much of a stretch for Uzbekistan to snap back into using heavy-handed, security-service forward tactics to enforce discipline.
But the social and economic bite of the pandemic, as in Kazakhstan, pushed Uzbekistan to move toward reopening. A study conducted by the United Nations Development Program (UNDP) released earlier this week highlighted the pandemic's economic impact: Exports dropped 18 percent in the first quarter; 85 percent of the country's small businesses were forced to close in March; the percentage of households with at least one member actively working fell from 85 to 43 percent.
The authorities used a system of "green," "yellow," and "red" zone designations to manage the lifting of restrictions in some areas while keeping them in place in others. Tashkent, for example, is mostly yellow with some red neighborhoods. On June 15, Uzbek authorities, while "extending" the lockdown measures to August 1, actually began to lift a number of restrictions in green and yellow zones. 
On June 1, the country had recorded only 3,702 cases, but by the end of the month that number had more than doubled to over 8,000.
By the end of June, Tashkent began re-imposing some restrictions including an overnight curfew in the capital and some parts of the country and closing large shopping malls and markets on weekends as the case load continued to grow.
The just-announced second lockdown, again as in Kazakhstan, is seen as a lighter version of the first lockdown. Public transportation between regions will be restricted again, markets, large shops, parks and entertainment venues will be closed again. Weddings will be banned, too, and funerals restricted to 15 people. State employees will be sent to work from home. Older people, those over 65 have been ordered to stay home; all others cannot gather in groups of more than three.