Will Cambodia's Shift in Focus to Small-Scale Farming Work?
Is the COVID-motivated shift enough to support all the laid-off garment industry workers? Who will really benefit?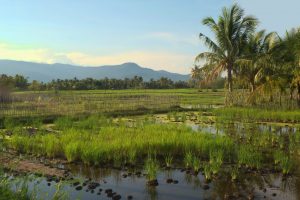 The Cambodian government has reverted its focus to small-scale farming amid COVID-19 to address the massive number of laid-off workers from the garment, tourism, construction, and transportation industries. Typical rural Cambodian farmers own small-sized landholdings and lack technical skills in agricultural cultivation. There are doubts if such a move can substitute for the job losses in the COVID-19 affected sectors.
This is seen as a strategy to support the continuation of the benefits from the European Union's (EU) tariff-free trade privileges under the "Everything But Arms Agreement" (EBA). The EU will still support Cambodia's rice and agricultural products, according to a joint EU report. 
Before the COVID-19 pandemic, the government had confirmed partial withdrawal of the EU's EBA over concerns about human rights abuses and democratic decay. When it takes effect on August 12, 2020, the partial withdrawal of Cambodia's trade privileges under EBA is likely to be hardest felt in the garment, footwear, travel goods, and sugar industries. The impact could cost around one-fifth or 1 billion euros ($1.1 billion) of Cambodia's annual exports to the EU. 
In the time of COVID-19 the Cambodian government has so far been praised for its successful measures to contain the virus. This success may be due to long-established practices of wearing masks when people are sick and the government's apparent effective policy measures. There have been no confirmed cases of community transmission. Only recently the Ministry of Health has alerted citizens to take precautions, avoiding the potential for community transmission after two spikes with 26 and 23 imported cases detected within just five days. The total number of confirmed cases was just 226, with no deaths, as of July 29.
The Kingdom's success in containing the virus at this moment does not mean that the virus has had no impact on Cambodia's economy. The World Bank estimates that Cambodia has experienced its slowest growth since 1994, ranging between negative 1.0 and  negative 2.9 percent. An earlier report estimated that the slowdown of the economy could increase poverty from 3 to 11 percent if COVID-19 lasts for six months (it has). With this economic slowdown, Cambodia has experienced unprecedented numbers of laid-off workers, suffering 390,000 job losses in domestic employment along with 100,000 unemployed migrant returnees from Thailand. This figure excludes hundreds of workers from Malaysia. While the exact number of affected workers remain unclear, travel restrictions alone have affected over 600,000 workers employed in tourism, and over 200,000 workers employed in construction work. 
Recently the government has made efforts to hand out cash packages to poor and vulnerable families, offered provisional support for loan holidays for garment factories as well as the tourism, transportation, and construction sectors, and provided $40 per month to garment workers. In addition to this, Prime Minister Hun Sen has encouraged laid-off workers and migrant returnees to embrace small-scale farming and vowed to provide technical support to farmers. According to Hun Sen, he would inject $100 million for improving irrigation systems for agriculture and creating short-term employment in rural areas. Many experts have been skeptical that the plan for small-scale farming can substitute enough jobs for all workers laid off from garment factories and the potential loss of EBA benefits. The agriculture sector's performance is weak, according to a Work Bank report.  
Despite 80 percent of Cambodians living in rural areas, with the majority depending on agriculture, a large proportion of small-scale farmers are near landless. A large proportion own fewer than 0.5 hectares. This proportion of landholdings provide less than half of the nutritional needs of a typical rural family. According to the World Bank, 10 percent of Cambodian rural families are entirely landless. Cambodia's program on social land concessions (SLCs) has supported rural poor and vulnerable farmers to address the issue of landlessness. The issue of near landlessness and landlessness may result from the large scale of unprecedented economic land concessions (ELCs) affecting indigenous communities and rural farmers, which the government focused on in the 2000s before the COVID-19 pandemic. To date, the government has granted of a total of 1,178,646 hectares of land in 19 provinces as ELCs. 
Although the government is working with countries including China, South Korea, the EU, and Japan for the potential export of its commodities (mainly rice), Cambodia's small-scale farming depends on rain-fed and traditional practices. Many small-scale farmers lack skills in adjusted crops for cultivation — rice is cultivated repeatedly on land, and on 58 percent farms only once a year. Issues of rural irrigation, soil strategy, and soil work are among the technical challenges for small-scale farmers. Competing with countries like Vietnam and Thailand that are much more advanced in agriculture for exports is among the many constraints for Cambodia's small-scale farmers, whose yields are generally good only for subsistent family livelihoods. The lack of knowledge of climate resilience in agriculture and the cost of agriculture inputs are also among the difficulties for Cambodia's crops to stay competitive in an international stage.
As the EBA does not impact the export of rice and agriculture products to the EU's market, the recent deal on a free trade agreement between Cambodia and China aiming at its exports of rice, bananas, and mangoes will benefit foreign companies rather than small-scale farmers. This deal expects to attract many more foreign investors to Cambodia during the Sino-U.S. trade war. In a sense, the deal could potentially increase the ability of existing investors to enlarge their business operations in the Kingdom. It also is perceived that this may offset the potential EBA losses and build stronger ties for the geopolitical stance to counter the West and ASEAN. However, China sees this deal as hedging against the economic fallout from the COVID-19 crisis.
China's investors in Cambodia adjusted their strategies when the withdrawal of EBA was pronounced on sugar. Five brother companies — Rui Feng, Lan Feng, Heng You, Heng Rui, and Heng Nong — granted more than 42,000 hectares for sugar plantation in 2011 in Preah Vihear province recently halted their sugar operations and diverted to rice cultivation. This shift is intended to fit with the remaining support of the EBA access to the EU's markets and the China-Cambodia free trade agreement.  
In short, the Kingdom's recent shifts in focus on agriculture amid the COVID-19 pandemic may be of little benefit and likely will not be enough for all laid-off workers from the affected sectors. Instead, this boost would benefit companies with privileged access to land for rice cultivation and agriculture crops through ELCs.
Len Ang is an independent analyst and a research associate at the Cambodia Development Resource Institute (CDRI).