Can Saudi Arabia Continue to Take Pakistan's Friendship for Granted?
The recent statement by Pakistan's foreign minister demonstrates Islamabad's growing discontent with Riyadh.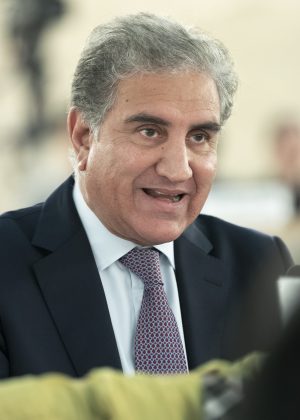 Pakistan's foreign minister, Shah Mahmood Qureshi, recently angered Saudi Arabia with a threat to hold a meeting of Muslim countries on the Kashmir issue outside the ambit of the Organization of Islamic Countries (OIC) that is led by Riyadh.
Following the confrontation, Pakistan's civil and military leadership has been trying to contain the situation. Most of Islamabad's diplomatic efforts in this regard are dedicated to pleasing the Saudi leadership by confirming its loyalty to Riyadh.
Islamabad has not uttered a word about other Islamic countries that could potentially become a part of its new alliance on Kashmir.
At the same time, neither Pakistan's foreign office nor the prime minister has disowned Qureshi's statement. In fact, the foreign ministry has endorsed it. The military leadership, on the other hand, has attempted to diffuse the situation by sticking to the usual rhetoric that "Saudi centrality to the Muslim world is unquestionable."
In Pakistan, Qureshi has a reputation of being a seasoned politician and someone who always goes by the book. It is possible that his statement didn't come without the military and civilian leadership's prior approval. Thus, the statement reflects a general mood of discontent in Islamabad, showcasing that Riyadh cannot continue to take Pakistan's friendship for granted.
Over the last few years, Pakistan has been trying to come out of the long-established trap of relying on Riyadh for most of its diplomatic and financial needs and support within the Muslim world. Taking advantage of this vulnerability, for decades the Saudis have managed Pakistan's foreign policy and developed deeper stakes in the country's domestic politics. Domestically, much of this has happened through lobbying efforts to gain pockets of influence in political-party cadres and enlisting the support of Islamists for Riyadh's brand as a bastion of the Muslim world.
Saudi Arabia has become habitual in undermining Pakistani governments by calling on the support of Islamists that thrive on Saudi money in the country. Consider this: a tsunami of cash from Saudi Arabia funds around 24000 seminaries in Pakistan.
After Qureshi's controversial statement, prominent leaders of Islamist groups in Pakistan visited the Saudi embassy. For many in Islamabad, this shows that Saudi Arabia doesn't need the approval of Pakistan's government for its outreach in the country. The prevailing general perception that Saudi Arabia shapes Pakistan's domestic-political and foreign policy space was validated by a recent article written by Saudi Arabia's former ambassador to Pakistan. Rejecting Qureshi's statement, Dr. Ali Awadh Asseri wrote that Pakistan and Saudi Arabia ties "are unlikely to founder with the baseless rhetoric of a misguided individual." Quoting the military Inter-Services Public Relations' statement in favor of Saudi-Pak ties, the ambassador exclaimed: "Where does FM Qureshi's diatribe stand after this? Will PM Imran Khan remind him to be careful in the future?" He further warned that if Pakistan is planning to call another "Kuala Lumpur style gathering, then it is a dangerous proposition," something that cannot be expected from the country.
Saudis view the possibility of losing Pakistan's partnership or Islamabad potentially supporting its rivals in the Muslim world — particularly Iran and Turkey — as a setback to its national security and diplomacy. Hence its apparent sensitivity to what Pakistan's leaders say or think, as has become clear from the Qureshi episode.
However, the process of Pakistan's transition away from Saudi Arabia may have already begun. Pakistan is closer to Turkey than it ever was in the past. Last year, Pakistan may have missed the Kuala Lumpur summit under Riyadh's pressure but supporting a gathering independent of Saudi Arabia's blessings show where Pakistan's foreign policy is headed in the coming years. With Iran, Pakistan is unlikely to play by Saudi rules anymore as Islamabad grows closer to Tehran. Furthermore, as China offers breathing space to Pakistan in managing its foreign policy and economic affairs, Islamabad may not be as worried about Riyadh's preferences as it was in the past.
Qureshi's statement was an addition to the growing discontent about Saudi Arabia in Islamabad's policymaking circles. And the fact that he had voiced his opinion publicly and forcefully suggests that Riyadh cannot expect to continue with the old methods of shouting down Pakistan's foreign-policy preferences at will. While Riyadh considered Qureshi's statement nothing more than an individual's outburst, it is important to remember that the same individual – Qureshi — led an important delegation to China last week and also hosted the Afghan Taliban in Islamabad on Tuesday.
The Saudi reaction to Qureshi's statement follows a familiar pattern in Riyadh's behavior. Saudi Arabia often threatens Pakistan with economic and political repercussions in order  to secure compliance. Riyadh has also grown accustomed to reaching out to its right-wing domestic support base in Pakistan if bullying the country's government doesn't work as expected. With Qureshi's blunt statement, Pakistan is only returning the favor. Threatening to move away from Riyadh's orbit while officially appeasing Saudi Arabia implies that Pakistan's partnership with that country is anything but robust — and far from being united by so-called cultural and religious bonds.
For many in Islamabad, Saudi Arabia's insistence on retaining the role of the so-called leader of Muslim Ummah and having its way with Pakistan has run its course. With Saudi Arabia's major Arab partners establishing diplomatic ties with Israel, even the right wing in Pakistan has grown wary of Riyadh's commitment to the issues of the Muslim world. Riyadh may still have some important economic and diplomatic tools at its disposal to straighten Islamabad, but their value is rapidly waning.
In the coming months and years, Riyadh should expect more resistance from Islamabad over the issue of who leads the Muslim world and Pakistan's foreign policy choices.
Pakistan expects a change in Saudi Arabia's behavior. Until that happens, Islamabad will continue to further drift away from Riyadh.