Why China Should Not Fear India's Tibet Card
India's options when it comes to Tibet are limited.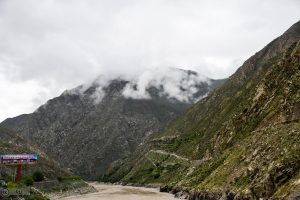 In an apparently important development, China's Foreign Minister Wang Yi visited Tibet on Friday amidst unabated tensions with India over an ill-defined boundary between the two in eastern Ladakh. As the crisis between the two countries crossed the hundred-day mark early this month, during his visit "Wang praised Tibet's achievements under President Xi Jinping, especially in securing the border with India," the South China Morning Post reported.
India accepted Tibet as part of China through a 2003 agreement that saw a quid pro quo recognition by China of the Himalayan region of Sikkim as Indian territory. However, growing tensions since the deadly June 15 clash between the Chinese and Indian armies has led many in New Delhi to suggest that India play the "Tibet card" as retaliation to growing Chinese intransigence on the disputed boundary and beyond.
As early as 2010, New Delhi's commitment to a "One China" policy has been contingent on Beijing maintaining a "One India" stance – official recognition that Arunachal Pradesh (but also, Jammu and Kashmir, as well as Ladakh) form part of the Indian state.
Since then, joint statements between the two countries have not included any explicit reference to Tibet as part of the People's Republic. Famously, in 2014 then-Indian Foreign Minister Sushma Swaraj bluntly told Wang: "Mr. Minister, we support the One China policy. However, we expect you to also have a One India policy."
Such rhetorical games aside, as The Diplomat's contributing author Rajeswari Pillai Rajagopalan recently noted, the Modi government in unlikely to radically revisit India's position on Tibet, for example by officially recognizing the Dalai Lama as a foreign political figure. A move along those lines would be tantamount to reneging on the 2003 agreement in Beijing's eyes.
That, in turn, could pave the way for China de-recognizing Sikkim as Indian territory – or, more alarmingly from New Delhi's point of view, Beijing asserting that all of Jammu and Kashmir, as well as Ladakh, are disputed territories. Note that China already considers Arunachal Pradesh as part of "South Tibet." As strident symbolism, last year it destroyed 30,000 world maps made in China for export for failing to mark the territory as such.
Beyond Beijing's token territorial assertions, India remains worried that China no longer feels the need to play by the old book. One of the two scuffles between the Indian and Chinese militaries on May 5 was in the Naku La region along the boundary between Sikkim and Tibet, something New Delhi has considered settled in spirit, if not on paper. Beyond this, India continues to worry about a Chinese army presence in Gilgit-Baltistan – a part of Kashmir India claims and Pakistan administers – because that forecloses the possibility of any Indian military action to take it back without drawing China in.
And then there is the fear, on both sides, that the other will resort to war with proxies to assert territorial claims, or at the very least muddle strategic calculations. China most likely remembers that following the 1962 war between the two countries, India set up a guerrilla force of Tibetan rebels.
What probably rankles Beijing (which, under Xi Jinping, seems to wear historical grievances on its sleeves) even more is the fact that covert action against China in Tibet in the 1960s was often a result of active Indian and American collaboration, even when New Delhi – as a matter of official policy – espoused non-alignment. On India's part, it has long harbored suspicions that separatists in the eastern state of Nagaland have been trained and funded by China in the past. Were India to go down the road it paved almost 60 years ago, China could easily return the favor.
On top of this sits massive, though asymmetric, improvement in infrastructure along the India-China Tibetan boundary, which could facilitate military action by either side; the official reason Beijing provided for Wang's Tibet visit on Friday was to take stock of "border infrastructure."
The Tibet card for India – beyond relatively staid diplomatic signalling – is limited. At the same time, the India-China history clearly demonstrates how frontiers for both countries remain major, shared vulnerabilities. Both realize this. Therefore, for the time being, mere optics – such as Wang's visit to Tibet – will have to make up for the lack of genuine options that carry a bite.