Why Was a Solo Protester Jailed in Kazakhstan for Picketing a Chinese Consulate?
Just because Kazakh-China relations have experienced some bumps lately doesn't mean Nur-Sultan is ready to accept public protests on the matter.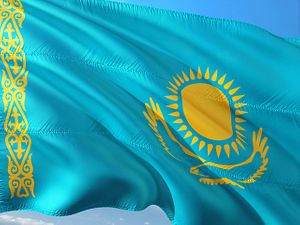 On August 3, Serik Azhibai staged a single-person picket outside the Chinese consulate in Almaty, Kazakhstan's largest city. Azhibai took up his solo protest because of recent comments made by Chinese Ambassador to Kazakhstan Zhang Xiao about Chinese-Kazakh military cooperation. He was detained by police and soon found guilty on charges of staging an unapproved public event and disobeying police orders. Azhibai pleaded not guilty.
China's official readouts (in English) of the ambassador's comments focus on cooperation, noting that the two countries have closely cooperated in "the fight against terrorism, separatism and extremism" — the "three evils" — "as well as 'color revolutions' in the region."
As RFE/RL reported, Azhibai heard a little more in the comments:
Before police took him away, Azhibai said his action was in protest to an interview Zhang gave Chinese media last week in which, according to Azhibai, who is fluent in Chinese, the envoy said that China and Kazakhstan would send troops to each other's territory to quash possible riots, if need be.

"We are not a Chinese autonomous region. We are a sovereign state, an independent nation…. Neither China nor any other state has the right to interfere in other countries' internal affairs," Azhibai said.
Within this incident there are a few dynamics worth examining: the matters of protesting and anti-Chinese sentiment alongside the particularities of Chinese diplomacy in the region at the present moment.
First, in May, Kazakh authorities approved an update to the country's laws regarding protests, which was advertised as reform but criticized as anything but. Whether it legislated reforms or not is beyond the point that in practice little seems to have changed with regard to how the Kazakh state responds to protests: selectively and arbitrarily. Furthermore, single-person protests were previously legal — meaning they did not require official permission — but occasionally resulted in detentions anyway. 
Azhibai presents a particularly interesting example because he was out front of the same Chinese consulate picketing in January and reportedly in ensuing months. In January, as RFE/RL reported at the time, Azhibai — along with Marat Qurbanov and Baibolat Kunbolatuly — were demanding the release of their relatives, allegedly interned in Xnjiang. Back in January, the three were simply ignored by the Chinese consulate and according to RFE/RL, "Security officers asked them to submit their requests in writing."
That Azhibai was jailed for a solo picket in August stands as yet another illustration that Kazakh authorities remain inconsistent, at best, regarding protesting.
The second dynamic, which perhaps explains Azhibai's arrest better than the Kazakh state's discomfort with protesting, is the touchy issue of anti-Chinese sentiment mixed with the apparently shifting moment in regard to Chinese diplomacy in the region and elsewhere. Even when Nur-Sultan is less than pleased with Beijing, as it arguably is now, there's rarely any room for domestic opposition to China to find fertile ground.
As Sebastien Peyrouse, a research professor at George Washington University's Central Asia program, wrote for The Diplomat Magazine in May: "No state in Central Asia, and even less the three bordering states, could afford to yield to pressure from anti-Chinese lobbies or activists and challenge their big neighbor." The economic calculus just doesn't work and Sinophilia, particularly among the elite who benefit the most, is a powerful antidote to nascent domestic opposition centered around China.
Peyrouse's arguments hold even under these shifting tone of Chinese regional diplomacy amid the pandemic. 
In April, Chinese authorities deleted the work of a rogue nationalist who had penned an article claiming Kazakhstan (along with many other countries) was eager to "return to China." Kazakh authorities summoned Ambassador Zhang for the requisite diplomatic protest but relations remained stable.
Then Kazakh authorities had to push back against statements coming from Chinese authorities regarding a "new" deadly pneumonia in Kazakhstan in July. Given that the allegation came directly from the Chinese Embassy in Kazakhstan, as Tristan Kenderdine wrote in The Diplomat last month, there was no room for plausible deniability as there had been with regard to the April incident.
Nevertheless, that diplomatic kerfuffle has yet to push high-level Kazakh-Chinese relations off track. But that doesn't mean Nur-Sultan is not cognizant of the tension inherent in this particular moment. Inside this context, Azhibai's solo protest from the state's perspective appears as an unnecessary irritant to an already irritated relationship and a potential trigger point for further public anger directed at China.