In Myanmar, a Leading Conglomerate is Funding Military Abuses
A new report argues that a military-linked conglomerate – and its foreign partners – are directly funding units accused of crimes against humanity.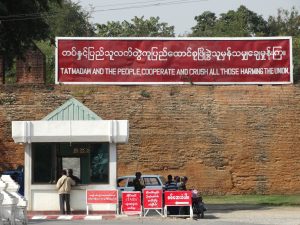 From its involvement in jade mining to its collusion in narcotics trafficking, it has long been known that Myanmar's military, or Tatmadaw, is also an immense business operation of dubious probity. Even then, a new report from the human rights group Amnesty International reveals just how closely the military's business interests are connected with acts amounting to possible genocide and crimes against humanity.
The new Amnesty report drills down into the operations of the Myanmar Economic Holdings Public Company Ltd (MEHL), a secretive military-linked conglomerate that a U.S. diplomat once described as "one of the most powerful and corrupt organizations" in the country. Founded in 1990, MEHL now has its tentacles in nearly every sector of Myanmar's economy, from beer and tobacco to mining, banking and garment manufacturing.
At the same time, MEHL has established joint venture partnerships with a range of local and foreign businesses including the Japanese beer giant Kirin and South Korea's steel firm POSCO. It is also the local partner of China Wanbao Mining Co., with which it is jointly developing a controversial copper mine in central Myanmar.
And according to leaked shareholder records obtained by Amnesty, profits from MEHL – and presumably, its foreign partners – are financing the military, including regiments and units that have been accused of genocide and other crimes against humanity.
The documents show that military units, including combat divisions, hold about a third of MEHL's shares, while serving and retired military personnel own the rest. They show that from 1990 to 2011, MEHL paid dividends totaling $18 billion, around $16 billion of which was transferred to military units. While it is unclear how this money was ultimately spent, "the size and regularity of these payments suggests that they cover operational costs," Mark Dummett, Amnesty's Head of Business, Security and Human Rights, said in a statement.
Among the shareholders were 95 units within the Western Command, the regional command involved in the Tatmadaw's brutal assaults on the Muslim Rohingya in Rakhine State.
In August 2017, the military launched a scorched-earth campaign into northern Rakhine, a wildly disproportionate response to a scattering of attacks from Rohingya militants. In the ensuing "clearance operation," soldiers and vigilantes torched villages, shot civilians, and drove more than 700,000 people over the Naf River into Bangladesh.
The report's findings underline the conclusions of a recent UN Fact-Finding Mission report into MEHL, which highlighted the extent to which the military's business holdings enhance its ability to act beyond civilian control – as "a state within a state," as the scholar David I. Steinberg once described it.
Amnesty has called on MEHL's foreign partners to cut their ties with the company, and there are some signs that it might be working. According to the rights group, the South Korean clothing manufacturer Pan-Pacific has announced that it is terminating its business partnership with MEHL. Kirin has also stated it is reviewing its relationship with the firm.
There may be limits to the ability of Western governments to isolate and punish Myanmar, without also increasing China's influence over the country. But foreign companies doing business with the tainted organs of the Tatmadaw may soon find that the cost of doing so is simply too high.