Japan's Kirin Suspends Payments to Myanmar Military Firm
The move follows reports by human rights groups that MEHL has directly funded the commission of crimes against humanity.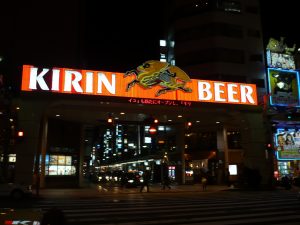 The Japanese beverages firm Kirin has suspended dividend payments to a tentacular Myanmar business conglomerate linked to the country's military, the company announced this week. In a statement on November 11, Kirin Holdings Company, announced that it had suspended all dividend payments from two Myanmar beer ventures to Kirin and the Myanmar Economic Holdings Ltd (MEHL).
In September, Amnesty International published a report claiming that a military-linked MEHL was directly funding units accused of genocide and crimes against humanity. The report was based on data and leaked shareholder documents from MEHL, obtained by the local advocacy group Justice For Myanmar.
Kirin said that the suspension was made "in view of a significant lack of visibility regarding the future business environment for our Myanmar joint-ventures."
In June, following pressure from civil society, Kirin hired the consulting firm Deloitte to investigate the destination of proceeds from Myanmar Brewery Limited and Mandalay Brewery Limited, its two joint-venture businesses, "as a matter of urgency."
Once described by a U.S. diplomat "one of the most powerful and corrupt organizations" in Myanmar, MEHL is involved in nearly every sector of the economy, from beer and tobacco, to mining, banking and garment manufacturing. MEHL has also established joint venture partnerships with a range of local and foreign businesses.
The Amnesty report showed that military units, including combat divisions, hold about a third of MEHL's shares, while serving and retired military personnel own the rest. From 1990 to 2011, MEHL paid dividends totaling $18 billion, around $16 billion of which was transferred to military units.
In a statement on November 11, Amnesty International said that the Deloitte investigation commissioned by Kirin "should lead it to a decision to responsibly end all business ties with MEHL."
I have previously argued that it is not easy for Western governments to isolate Myanmar in the same manner that it did under the old military junta, given the wider strategic concern about China's growing present in the country.
Indeed, as relations with the United States and European nations have soured, in large part due to the military's horrific treatment of the Muslim Rohingya minority, State Counselor Aung San Suu Kyi's government has leaned on China for diplomatic and economic support. The result has been something of a reversal of the strategic shift that took place in 2011 and 2012, when Myanmar reformed its political system and opened ties with Western democracies.
Japan, on the other hand, has taken a much more pragmatic stance toward Myanmar, as it has with rights-abusing governments elsewhere in Southeast Asia. Its diplomats have downplayed claims of genocide against the Rohingya and on one occasion even referred to the group as "Bengali." The Myanmar government refuses to recognize the Rohingya as a distinct ethnic group, instead arguing that most are illegal immigrants from Bangladesh.
Private Japanese companies like Kirin, however, are more vulnerable to consumer sentiment. While it remains to be seen whether the Japanese beverage giant will cut and run from its joint ventures with MEHL, its announcement suggests that doing business with local entities will exact an increasing cost.