India and China Exchange Accusations About Gunfire as Window for Diplomacy Narrows
The Indian and Chinese foreign ministers are scheduled to meet later this week in Moscow amid a dramatic turn in the four-month long Ladakh crisis.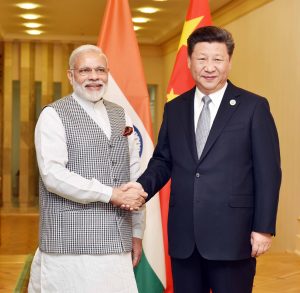 The last two and half months have proven to be a series of "firsts" for the India-China relationship, none of which portend well for either its long-term trajectory or how the ongoing crisis in eastern Ladakh between the two could end.
On June 15, a clash between the People's Liberation Army (PLA) and the Indian Army in the Galwan Valley left at least 20 Indian and unknown number of PLA soldiers dead, the first fatalities in an India-China clash since an armed skirmish between the two in 1975. Beginning the week of August 31, news emerged that India had deployed a highly secretive guerrilla force comprising of ethnic Tibetans to capture one or more unoccupied peaks — possibly in Chinese territory — along the south bank of Pangong Lake. (For more on the August 29-31 military actions, see my earlier piece here.)
Finally, both China and India accused each other of discharging firearms (possibly as warning shots) also in the vicinity of the lake's south bank on September 7. The use of firearms along the Line of Actual Control (LAC) is a first since the 1975 clash in Arunachal Pradesh. The gunshots shatter a 1996 agreement on confidence building measures between the two militaries, where both had agreed that "[n]either side shall open fire, cause bio-degradation, use hazardous chemicals, conduct blast operations or hunt with guns or explosives within two kilometres from the line of actual control."
A macabre element of the June 15 clashes was that the deaths were caused both by injuries from improvised weapons, such as rods wrapped in barbed wire, as well as hypothermia from being pushed into the freezing Galwan River. No guns were apparently used. Certain news reports note that soon after the Galwan clashes, the Indian Army changed its "rules of engagement" along the LAC allowing local commanders to use firearms if needed for tactical action. The curious fact here is the absence of reports suggesting they were used in the peak-seizing special-forces operations early last week. Recall that one Indian special operator of Tibetan ethnicity, Nyima Tenzin, was killed by an anti-personnel landmine explosion during the Indian military action on the intervening night of August 29 and 30.
One thing is becoming brutally clear, especially after the events of September 7: It looks like the end of the road for a diplomatic solution to the ongoing crisis. Several rounds of military-to-military negotiations at various levels, at least one conversation between the Indian National Security Advisor Ajit Doval and senior CCP Politburo member Yang Jiechi and talks between Indian cabinet members and their Chinese counterparts have failed to resolve the four-month long crisis though each of them had been, variously, hailed by sections of the Indian media as holding the key to a solution.
While India's Foreign Minister S. Jaishankar is expected to meet Chinese Foreign Minister Wang Yi in Moscow on September 10 – and Jaishankar believes diplomacy holds the key to the crisis' resolution – it is best not to hold out much hope for the outcome of their meeting. Remember that the two leaders spoke after the June 15 clashes as well; it is clear, in hindsight, those talks did not amount to much. Also, note that the Indian Defense Minister Rajnath Singh met with his Chinese counterpart General Wei Fenghe, again in Moscow, last week. The expectation from the upcoming September 10 meeting is — and Jaishankar articulated it last week — that his long personal familiarity with Wang, first as a career diplomat and then as India's foreign minister, will help smooth matters. This once again reveals a long-standing belief that has guided Indian Prime Minister Narendra Modi's foreign policy: personal relationships are paramount in diplomacy.
Modi and Chinese President Xi Jinping have participated in two much-publicized "informal summits" since the India-China crisis in Doklam in 2017: one in Wuhan in 2018 and the other in Mamallapuram last year. All in all, the two leaders have met face to face 18 times since Modi assumed office in 2014. But despite this, as a seasoned observer of India's foreign affairs privately noted today, it is remarkable that not only did these interactions fail to prevent events of the last four months, they also did not help create circumstances that would allow for a forthright and honest Xi-Modi conversation to arrest this dramatic downturn in India-China relations — which is the only diplomatic channel left to be explored.