India and Japan Hold Bilateral Naval Exercise in North Arabian Sea
JIMEX 2020 comes at a time when the India-Japan defense relationship, guided by political convergence at the top, is exceptionally robust.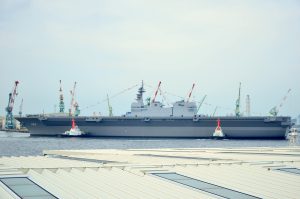 The three-day India-Japan bilateral maritime exercise, held this year in the North Arabian Sea, concludes today against a backdrop of deepening military ties between the two countries. News reports note that the 4th edition of the biennial JIMEX, which started in 2012, saw the participation of JS Kaga, one of Japan's two Izumo class helicopter carriers, as well as a guided missile destroyer. India was represented by a stealth destroyer, a stealth frigate and a fleet tanker, along with helicopters, jets and maritime patrol air assets from both sides, reports observe.
The two navies also participated in a week-long passage exercise (PASSEX) around the Malacca Straits in late June, amid serious India-China tensions along their undefined border in Ladakh. Earlier this month, on September 9, India and Japan concluded a military-logistics agreement that would formalize mutual support functions around exercises such as JIMEX, among other tasks. Since 2015, Japan has been a permanent participant in the high-end U.S.-India Malabar naval exercise, in a sign of growing three-way defense cooperation. India and the United States also held a PASSEX in the eastern Indian Ocean in July, with the U.S. being represented by the USS Nimitz aircraft carrier and accompanying strike group. India's varied military exercise partners (which have included China in the past) have often been seen as diminishing their political signaling value; however, the exercises with Japan and the U.S. in June and July were anything but lacking in concrete political messaging directed at China.
India-Japan military exercises have been framed around growing political convergence between the two countries. Very few in India fail to miss – and appreciate – the significance of the fact that former Japanese Prime Minister Abe Shinzo announced his vision of a "Confluence of the Two Seas" – the Indian and Pacific oceans – during a 2007 speech to the Indian parliament, something that paved the way for Japan's, and Abe's, Indo-Pacific ideation and push. During a visit to Japan in September 2014, soon after he became India's prime minister for the first time, Narendra Modi's remark about the "expansionist" attitudes of certain countries (a not-so-veiled swipe at China) was particularly pointed given the venue.
While Japan's new Prime Minister Suga Yoshihide's previous experience as chief cabinet secretary to Abe focused on domestic affairs – and he himself has hinted that he would adopt a "hands off" approach to foreign policy, unlike his predecessor – he reached out to Modi soon after assuming office, a move that demonstrates a desire for continuity in relations with an important partner and regional actor. As Diplomat's Editor-at-Large Ankit Panda noted in these pages, India and Japan's 2008 agreement that both have a "mutual stake in each other's progress and prosperity" has continued salience, more than 12 years later. On September 1, Australia, India and Japan launched a Supply Chain Resilience Initiative which, should it materialize concretely, stands to assist regional liked-minded economies in decoupling from China. Last year,  India and Japan also started a 2+2 dialogue of foreign and defense ministers.
It is on the front of defense trade to India that Japan is yet to make good. India has sought to acquire ShinMaywa US-2 amphibious aircraft for nine years now, with both countries unable to complete the deal. Japan has also withdrawn from the Indian Navy's Project 75I, by which six new conventional submarines with advanced propulsion specifications would be built in India through partnership with and technology transfer from foreign players; the fate of Project 75I itself remains unknown. In 2016, media speculations suggested that India and Japan might also install submarine-tracking "hydrophones" in the Indian Ocean. No publicly available information suggests progress on that front.