Kashmiri Militants Shift Base in a Worrying Sign for Indian Security Forces
As militants move base to north Kashmir, they are likely to take advantage of the area's proximity to Pakistan-administered Kashmir.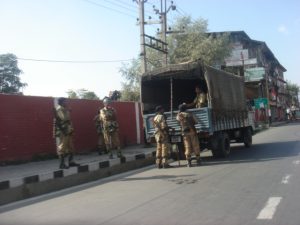 On September 4, three militants of the Hizbul Mujahideen (HM), the largest indigenous Kashmiri militant group operating in the Kashmir Valley, were killed in an operation by Indian security forces at Pattan in north Kashmir's Baramulla district.
The encounter should alert India's security establishment.
Only in January, Jammu and Kashmir's Director-General of Police Dilbag Singh claimed that the HM was "on the verge of being completely wiped out in south Kashmir."
The Pattan encounter suggests that under pressure in south Kashmir, HM militants are moving to the north Kashmir districts of Baramulla, Kupwara and Bandipora.
The HM is attempting "to re-establish its base in north Kashmir," Indian Army and Police officers told the media a day after the Pattan encounter. Apparently, this is the first time in several years that the security forces have killed HM militants in north Kashmir.
Since the eruption of the anti-India insurgency in Kashmir in 1990, its epicenter was in north Kashmir for 25 years. Underlying north Kashmir's emergence as the stronghold of the militancy were several factors. Baramulla, Kupwara and Bandipora districts share borders with Pakistan-administered Kashmir (PAK).
Proximity to PAK made it easier for Kashmiri youth to go across for training there. Infiltration of militants and weapons was easier through mountain routes in north Kashmir and the region's thick forests provided militants with safe hideouts. Bases were therefore set up near infiltration routes in north Kashmir.
Then in 2015, the locus of the militancy shifted to south Kashmir when Burhan Wani, a charismatic HM commander from Tral in Pulwama district, emerged a popular rebel icon. His defiant posts, selfies and videos on social media captured the imagination of Kashmiri youth and scores of youth from the south Kashmir districts of Pulwama, Anant Nag, Shopian and Kulgam joined the militancy. Wani played a major role in south Kashmir's emergence as a base of the "new militancy," as the post-2015 militancy came to be called. Unlike earlier phases, this phase of the militancy drew educated youth, who knew how to use social media to full effect.
But unlike their counterparts of the 1990s who underwent rigorous training in camps in PAK, the "new militants" in south Kashmir were trained locally in orchards and forests. They were thrown into combat after training that was at best "rudimentary." Not surprisingly, gun-battles between security forces and the south Kashmir "boys" were one-sided. The encounter that culminated in Wani's death in July 2016, for instance, lasted just 15 minutes, laying bare his poor fighting skills. Several militants lost their lives within months of joining the militancy with one militant, a former professor, surviving for just 36 hours after he joined the HM.
Security forces were able to eliminate several HM commanders including Wani, Sabzar Bhatt, Riyaz Naikoo and Junaid Sehrai and scores of fighters. They were also able to prevent the HM from carrying out major attacks over the past five years. It is likely that under immense pressure from the security forces in south Kashmir, the HM has shifted base to the northern districts.
While the militants' flight from south Kashmir is a victory for India's counter-insurgency forces, the HM's shift in base to north Kashmir provides little reason for celebration.
The advantages that militants of the pre-2015 generation (especially those active in the 1990s) were able to draw from their bases in north Kashmir will now become available to the current generation of militants. That is, they will be able to put to full use their proximity to Line of Control (LoC) and PAK. They will have easier access to weapons and training from Pakistan than they did when based in south Kashmir.
Several major encounters have taken place in north Kashmir this year. In April, security forces intercepted militants returning from training in PAK. Although all five militants died in the encounter at Keran near the LoC, they were able to inflict heavy damage on the Indian forces. Five elite paratroopers of the Indian Army died in the encounter.  A month later, a colonel and a major were among five security personnel who were killed in a face-off with militants in Handwara. On August 17-18, five soldiers and three militants were killed in a 36-hour encounter in the Kreeri area of Baramulla district.
Although the militants involved in these operations were not from the HM but other groups like the Jaish-e-Mohammed or Lashkar-e-Taiba or little-known outfits, they point to a trend in north Kashmir that is quite different from the "new militancy" in the south. Unlike the militants in south Kashmir, those active in the north seem well-trained and heavily armed. Their face-offs with the Indian forces extend for many hours, if not days, and they have been able to inflict heavy losses on the security forces.
Clearly, training and weapons that militants received in PAK contributed to their impressive fighting skills that they displayed in the recent encounters in north Kashmir. These are skills that the HM fighters who have moved to north Kashmir will acquire in the coming months.