Hizbul Mujahideen Chief Killed – Again
The new militants leading the group have proven to be no match for India's security forces.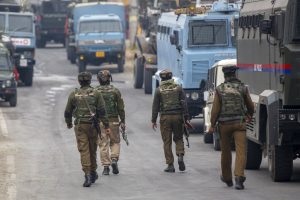 The Hizbul Mujahideen, Kashmir's largest indigenous militant group, has suffered a setback. It has been decapitated again.
Its chief operational commander in the Kashmir Valley, Saif-ul Islam Mir (aka Ghazi Haider, aka Dr Saifullah) was killed on November 1 in an encounter with security forces in a suburb of Srinagar.
Saifullah took over the reins of the Hizbul in Kashmir only in May, when his predecessor Riyaz Naikoo was killed by security forces. Less than six months after Naikoo's elimination, the Hizbul is leaderless once again.
With Saifullah's death, Indian forces have eliminated the last of the militants who comprised the inner circle of Burhan Wani, a charismatic Hizbul commander, whose viral photographs and social media posts enthused scores of Kashmiri youth to join the anti-India militancy in 2015-16. Wani's death in July 2016 triggered the "new militancy" in the Valley.
Unlike militants of previous generations, who sought to keep their identities hidden, Wani and his associates posted photographs and videos of themselves on social media – Saifullah figured in one of the group pictures with Wani that went viral – and had emerged popular icons of anti-India sentiment in the Valley. While they boosted the cause of militancy, the "new militants" turned out to be paper tigers. Trained in local orchards and forests rather than in Pakistan-administered Kashmir, they were no match for Indian security forces and collapsed in the face of counter-insurgency operations.
Ten months after Wani's death, his replacement Sabzar Bhat was eliminated, and while his successor Naikoo managed to survive until May of this year, the Hizbul has lost scores of top commanders and fighters in recent years. Within a fortnight of Naikoo's death, Junaid Sehrai, who was appointed Saifullah's deputy, was also killed.
Saifullah's elimination is "a huge success for the police and security forces," Kashmir's Inspector General of Police Vijay Kumar told reporters at the encounter site, pointing out that Saifullah was involved in "many terror crimes" and was "instrumental in recruiting innocent youth into the terror fold." He was reportedly also behind the killing of three political workers of the Bharatiya Janata Party (BJP) in Kulgam last week.
However, Saifullah, like several of his predecessors in the Hizbul, was not known for any military expertise. Neither was he adept in the use of social media like some of his forerunners in the new militancy. He is said to have released just a few audio recordings of speeches to Kashmiris.
Saifullah's value to the Hizbul lay not so much in his fighting skills or in his capacity to inspire and draw new recruits as in his familiarity with the group's fundraising and recruitment network. Indeed, his appointment to the top post in May was reportedly due to the fact that he was conversant with Naikoo's network.
The search for Saifullah's successor has begun and three militants, all from south Kashmir, are reportedly being considered for the top post. These include Zubair Ahmed Wani, Mohammad Ashraf Khan (aka Ashraf Molvi) and Farooq Bhatt (aka Nalli). Zubair Wani holds an MPhil degree in sociology but is a relative newcomer to militant circles, having joined the Hizbul only in 2018. Nalli, who hails from an affluent background, is a more experienced fighter. Molvi appears to be the most experienced of the three, having picked up arms initially in 2000 and then returned to the militant fold in 2015. Importantly, he has been trained in Pakistan-administered Kashmir.
Molvi seems to be the frontrunner. The fact that he was trained in Pakistan-administered Kashmir makes him an attractive choice as this could make him more amenable to control by the group's handlers there.
Saifullah's elimination is a setback for the Hizbul Mujahideen. It will undermine morale among the rank-and-file. It could also further weaken its presence in south Kashmir, its stronghold since 2015.
However, the anger which fuels the militancy remains strong and has intensified over the past year. Moreover, the locus of the militancy seems to have shifted to its old bastion, the northern districts of Kashmir, which lie adjacent to Pakistan-administered Kashmir.
It is still too early for India to celebrate Saifullah's killing as a "major success."