Quad Foreign Ministers to Meet in Tokyo on October 6
The grouping is increasingly seeking to shape the Indo-Pacific security and economic architectures.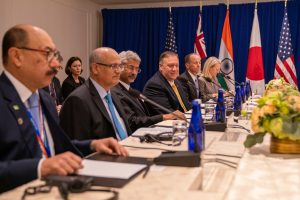 Ending a month of speculation, the Indian Ministry of External Affairs (MEA) confirmed earlier today that the second Australia-India-Japan-U.S. "quad" foreign ministers' meeting will be held next month, on October 6, in Tokyo after it was announced by Japan's Foreign Minister Motegi Toshimitsu at a press conference. Earlier, on August 31, U.S. Deputy Secretary of State Stephen Biegun had suggested that the meeting would take place in New Delhi, leading to much media frenzy in India before the country's External Affairs Minister, S. Jaishankar, clarified that a decision on the date and time was yet to be taken. The Tokyo meeting will take place less than a month before the United States' presidential election.
The first quad ministerial meeting took place last September in New York, after rounds of foreign ministry officials' talks – the latest of which took place virtually, on September 25 – since the grouping was revived in 2017. Over the summer as the COVID-19 pandemic introduced an additional level of uncertainty to an already-volatile Indo-Pacific security and economic environment, the quad has sought to position itself as a key plurilateral even though it continues to assert ASEAN's centrality in the regional architecture. In particular, the quad has increasingly focused on supply chain resilience, with Australia, Japan, and India launching a special initiative around it the beginning of the month.
As part of an announcement about Jaishankar's Japan trip on October 6 and 7, the MEA noted that the foreign ministers of the four countries "shall discuss the post-Covid 19 international order and the need for a coordinated response to the various challenges emerging from the pandemic," going on to add that "[t]hey will also discuss regional issues and collectively affirm the importance of maintaining a free, open and inclusive Indo-Pacific." It also noted that Jaishankar will hold bilateral meetings with his Japanese, American and Australian counterparts. India currently also has a "2+2" foreign and defense ministerial dialogue arrangements with all three countries.
While the quad currently does not have an explicit military dimension, or even a formal institutional structure, there are modest signs of movement in that direction. Despite India's peculiar coyness when it comes to inviting Australia to the India-Japan-United States Malabar naval exercises – which would be a necessary first step toward greater four-way defense coordination – over the last few months, the Indian Navy has held passage exercises with its American, Japanese and Australian counterparts with studied regularity.
After two relatively staid editions in 2015 and 2017, the India-Australia AUSINDEX  naval exercise in 2019 took a quantum leap with anti-submarine warfare (ASW) featuring prominently in its agenda. ASW has formed a crucial component of the Malabar exercises — which will most likely be postponed this year due to the COVID-19 pandemic — in its recent iterations years, leading to concern in China. India also has military logistics agreements with all three countries which would further facilitate joint exercises.
But beyond signaling-through-exercises, the Indian military leadership also seems to be shedding its reluctance to ascribe a military role to the quad. Earlier this month, India's Chief of Defense Staff General Bipin Rawat – someone not predisposed to be enthusiastic about Indian power projection capabilities – surprised New Delhi's strategic community by stating that the quad should "ensure Freedom of Navigation and Freedom of Navigation Operations" in the Indian Ocean. (A similar proposal floated in 2016 by then U.S. Pacific Command head Admiral Harry B. Harris, but for the South China Sea , was promptly rejected by New Delhi.)
But the road to a muscular, militarized quad may be quite long still. At a political level, as I and others have noted, significant differences between the U.S. and India remain. Beyond that, India's insistence on an "inclusive" Indo-Pacific – which has, most recently, meant trying to draw Russia in – has been widely, and correctly, read as a sign of its hesitation to build robust, exclusive blocs in the region.
For now, expect the quad to talk while holding out the promise to walk soon.