Amid Coronavirus Crisis, Japan Postpones Long-Awaited Visit From China's Xi
The visit had been envisioned as a high-water mark for newly repaired relations. Now it may not happen in 2020 at all.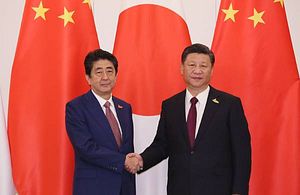 The Japanese government confirmed on Thursday that a planned visit by China's President Xi Jinping, originally set for April, was being postponed amid the coronavirus outbreak. The visit, which would have been the first state visit by China's top leader in over a decade, had been keenly anticipated by the government of Prime Minister Shinzo Abe.
Japan-China relations have been rocky since 2008, the last time a Chinese president (then Hu Jintao) paid an official visit to Japan. Ties iced over in 2012, when Japan's central government moved to nationalize several of the Senkaku Islands, which are administered by Japan but claimed by China (which calls them the Diaoyu Islands). Things got even worse with Abe's ascension to the prime minister's office a few months later. Abe, who had a reputation as a nationalist, including revisionist views on Japan's role in World War II, was not well received by China's neighbors – especially after his visit to the controversial Yasukuni Shrine in December 2013.
In recent years, however, Japan and China have made concerted efforts to patch up their strained relations, particularly as both face economic headwinds stemming from the protectionist tendencies of the Trump administration in the United States. The warming trend culminated in Abe's 2018 state visit to China – the first by a Japanese prime minister since 2011. Xi was supposed to reciprocate with his own official visit to Japan early this year, but the plan went awry with the emergence of a new strain of coronavirus, known as COVID-19.
Since it emerged in Wuhan, China, the virus has spread around the world, infecting over 96,000 people and killing over 3,300. The vast majority of both infections (over 80,000) and deaths (over 3,000) have occurred in China, constituting a public health emergency for the country. Japan, meanwhile, has registered 360 cases and six deaths – not counting passengers on the Diamond Princess cruise ship, which was controversially quarantined in Japan's Yokohama port for over two weeks.
As first China and then its neighboring countries scrambled to contain the growing pandemic, Xi's visit seemed less and less likely. Still, as recently as late February, Japanese officials were insisting the trip could still be salvaged. The announcement on Thursday finally cemented the reality that China's president will not be leaving the country amid one of its worst public health crises.
Abe had made no secret of the importance he placed on hosting Xi (who previously travelled to Japan to take part in the Osaka G-20 summit, but has not yet made an official bilateral visit). China and Japan have a "substantial responsibility for peace and prosperity in the region and in the world," Abe told legislators in late January. "I want to take Xi's visit as an opportunity to clearly show people at home and abroad that the two countries are ready to fulfill that responsibility."
During Xi's visit, the two sides were "to sign a new political document laying the foundation for future bilateral relations," the Japan Times reported. A similar document was signed during Hu's 2008 visit.
For its part, China's Foreign Ministry did not directly confirm the delay. Instead, spokesperson Zhao Lijian noted that "the two sides will maintain close communication regarding the timing of the visit."
"China and Japan are both making all-out efforts to fight against the COVID-19 epidemic. It is agreed that President Xi's state visit shall come at the most opportune time with the right conditions and atmosphere to achieve a complete success," Zhao said.
It was unclear when Xi's visit would be rescheduled. That decision will have to wait until the contours of the coronavirus pandemic become clearer.
"This is only a delay. I don't think it will put a break on the recent improvement in relations between the two nations," one Japanese government official told Kyodo News.
While Abe is deeply invested in hosting Xi, the visit sparked criticisms at home – even beyond the coronavirus question. Some argued that welcoming Xi would be tantamount to turning a blind eye to human rights abuses in China, particularly the mass detentions of Muslims in the Xinjiang region. Abe brushed such concerns aside, saying "Japan will say what it has to say" on the issue.
Critics, however, have seized on the postponement to push for the visit to be cancelled altogether. "Unless issues such as human rights and the Senkakus are improved, [Xi's planned visit] should be taken back to the drawing board," said Hiroshi Yamada, a lawmaker in Japan's upper house who belong to Abe's own Liberal Democratic Party.
Critics had also accused Abe of not implementing stricter travel controls on Chinese nationals during the early stages of the COVID-19 epidemic out of fear that Beijing would respond angrily and cancel Xi's visit. New travel restrictions, including the cancellation of tourist visas already issued to Chinese nationals and a two-week quarantine for travelers from China, were announced on Thursday.