US Bill Aims to End Aid to Philippines Military and Police
The Philippine Human Rights Act would end American security assistance to Manila unless it commits to reforms.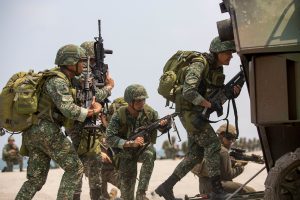 A bill introduced in the U.S. House of Representatives would block funding to military and police in the Philippines due to the recent passage of a controversial anti-terrorism law and other human rights abuses under the administration of President Rodrigo Duterte.
The Philippine Human Rights Act, introduced on September 23 by Rep. Susan Wild (D-PA), would require the Philippines to make substantial human rights reforms within its military and police forces or lose its substantial security funding from the U.S.
Duterte's administration, which in July pushed through an anti-terror act that critics say is aimed at crushing legal dissent, is using this law to "ramp up efforts targeting labor organizers, workers and political opponents," Wild said in a speech on the House floor.
"Let us make clear that the United States will not participate in the repression," she added. "Let us stand with the people of the Philippines."
The security relationship between Washington and Manila has been in the spotlight this year as Duterte navigates his country's longstanding American ties and his own desire to forge closer ties to Beijing, much to the dismay of the U.S.
In February, Duterte said he would terminate the Visiting Forces Agreement, which serves as the foundation for U.S. troops to conduct training and joint exercises with the Philippine military.
That move, opposed by generals within his own military, came after the U.S. suspended the visa of Senator Ronald dela Rosa, a Duterte ally and former police chief, due to his role in extrajudicial killings in the country's drug war.
But Duterte temporarily reversed his decision to terminate the agreement in June shortly after the administration of U.S. President Donald Trump approved two potential sales of attack helicopters, worth around $2 billion, to the Philippines.
Duterte has been cast as having turned Manila away from Washington and toward Beijing, enjoying a warm relationship with Chinese leader Xi Jinping and refusing to challenge China's presence in Philippine areas of the South China Sea.
Chinese companies have invested billions in energy and transportation infrastructure in the Philippines since Duterte took office in 2016. Earlier this month, a telecommunications company partly owned by China Telecom was given permission to build cell towers on Philippine military bases.
But Duterte and Trump have had a mostly cordial relationship. In April 2017, Trump congratulated Duterte on "an unbelievable job on the drug problem," referring to the anti-drug campaign that the Philippines Commission on Human Rights estimates has killed more than 27,000 people. In February, Duterte said Trump deserves to be re-elected.
Ties between U.S. and Philippine armed forces remain strong and the military has proven reliable in tempering Duterte's urges to move the country closer to China and Russia, with whom Duterte has also attempted to forge closer security ties.
The threat of Manila building closer ties with Beijing and Moscow has led the U.S. under Trump to mostly hesitate in directly criticizing Philippine rights abuses, even at the peak of Duterte's drug war.
But Philippine security forces could lose their access to U.S. funding should the Philippine Human Rights Act pass. Between 2016 and 2019, the U.S. provided $554 million in military aid to the Philippines.
The bill would require the Philippines to commit to several reform measures in order to lift the suspension on U.S. aid, including prosecuting members of security forces who violate human rights and establishing measures of protection for government critics and other targeted groups.
Philippine lawmakers have since criticized the bill. Presidential spokesperson Harry Roque, playing off Rep. Wild's name, called the bill a "very wild idea." Senators Panfilo Lacson and Vicente Sotto III noted the bill, if passed, would essentially end the Visiting Forces Agreement.
The armed forces of the Philippines called the bill "unfair" and a spokesperson insisted the armed forces has no human rights abuses in its record. Domestic and international rights groups, journalists, and opposition politicians have documented dozens of rights abuses at the hands of Philippine armed forces.
The bill currently has 24 cosponsors, including Rep. Alexandria Ocasio-Cortez (D-NY), all of whom are Democrats.