After Abe, Will Press Freedom Improve in Japan?
New Prime Minister Suga Yoshihide is widely seen as a continuity choice. Will he change course on media freedoms?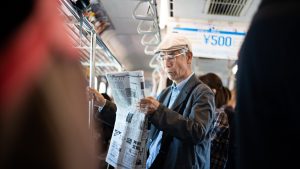 The recent retirement of Abe Shinzo as prime minister of Japan has prompted much conversation about his legacy. Some view his record of domestic accomplishments as paltry, or blame him for the deterioration of Japan's relations with Asian neighbors, notably South Korea. Others counter that Abe provided a needed period of economic stability, while some praise his transformational political reforms. 
Not in dispute is Abe's aggressive campaign against press freedom. According to Reporters Without Borders "Journalists have been complaining of a climate of mistrust toward them ever since Shinzo Abe became prime minister." Japan plunged from 22nd to 66th in the Reporters Without Borders World Press Freedom Index over the course of his second premiership from 2012 to 2020.
Abe's war on the media has been documented in detail by observers such as Martin Fackler, Jeff Kingston, and David McNeil. His multifaceted attacks on the press began with restricting access to information. The 2014 Protection of Specially Designated Secrets Act weakened freedom of information rights and criminalized whistleblowing. Government bureaucrats could face up to 10 years imprisonment for leaking state secrets, while journalists who published such secrets could face five years in jail.
Other tactics included bullying critical journalists and threatening the heads of news organizations, as highlighted in a 2016 U.N. Report of a Special Rapporteur on Freedom of Opinion and Expression in Japan. Many journalists reported being sidelined or silenced after pressure from Abe or his allies in his ruling Liberal Democratic Party (LDP). For example, a number of highly respected TV anchors were removed from their positions after Abe had had private dinners with their bosses. Abe isolated critical foreign journalists by accusing them of "Japan-bashing" or threatening to withhold access to high-level sources, a threat he frequently extended to domestic news organizations as well.
One of Abe's favorite methods for intimidating media into uncritical coverage was to preemptively accuse them of bias. Before the 2014 elections, the LDP wrote to the heads of the major TV stations demanding impartial coverage. They claimed to be merely seeking the balance required of all broadcasters, but the intimidating message was clear: go easy on us or risk your license. The threat was made explicit in 2016, when Communications Minister Takaichi Sanae threatened to withdraw the licenses of broadcasters who aired "politically biased" reports. 
Abe was particularly overbearing in his attempts to wield influence over NHK, Japan's giant public broadcaster. As deputy cabinet secretary in 2000, he strong-armed NHK into altering the contents of a documentary about Japan's system of wartime sexual slavery to bring it more into line with his denialist narrative. As prime minister, he packed the organization's senior ranks with loyalists, naming ally Momii Katsuto  as NHK president in 2013. Momii, who had absolutely no prior experience in either journalism or broadcasting, promptly undermined trust in NHK's impartiality by claiming that "when the government is saying 'right' we can't say 'left." Abe also appointed a number of outspoken nationalists to NHK's Board of Governors, including Naoki Hyakuta, a novelist whose incendiary remarks included the false claim that the Nanking massacre never happened. 
Things are unlikely to improve in the short term. New Prime Minister Suga Yoshihide is widely seen as a continuity choice, unlikely to change course from Abe's major policy positions. Certainly he is no friend of the investigative press. As chief cabinet secretary, he was the public face of Abe's LDP for many years, developing a reputation for tight-lipped and tightly-scripted press conferences. His anger at Hiroko Kuniya, a highly respected NHK presenter who persisted in questioning him, probably got her moved from her job, and he recently singled out Isoko Mochizuki of the Tokyo Shimbun for her "problematic" questions at press conferences. 
Moreover, Suga's unprecedented appointment of a journalist as his special adviser perhaps reflects a desire to actively shape press coverage after years playing stonewall defense during the administration's frequent scandals. 
On the other hand, Suga lacks Abe's crusading zeal to rewrite history, restore Japan's national pride, and revise the pacifist constitution. Abe believed, wrongly, that silencing criticism was the best way to build support for his vision. Suga, by contrast, is a pragmatist rather than an ideologue; he advised Abe against visiting the notorious Yasukuni Shrine in 2013. So it's just possible that there may be better times ahead for Japan's beleaguered journalists. 
Henry Laurence is associate professor of government and Asian studies at Bowdoin College, United States.  He has written extensively on Japanese and British politics.